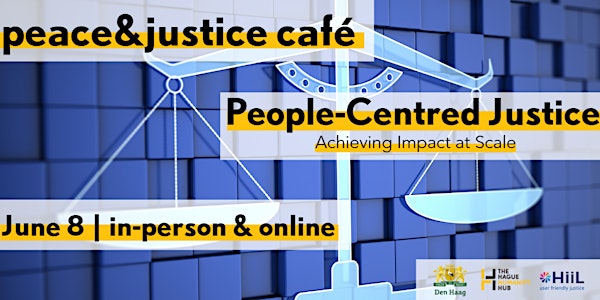 peace&justice café: People-Centred Justice, Achieving impact at scale
Hybrid event: Attend virtually on Zoom or in-person at the Humanity Hub City Centre!
By The Hague Humanity Hub
Date and time
Thursday, June 8 · 3 - 6pm CEST
Location
The Hague Humanity Hub 58 Fluwelen Burgwal 2511 CJ Den Haag Netherlands
About this event
Join us on June 8 at the peace&justice café, People-Centred Justice: Achieving impact at scale
The next peace&justice café will focus on 'People-Centred Justice' in collaboration with The Hague Institute for the Innovation of Law and as part of Hague Justice Week! People-Centred Justice is a simple idea with huge potential impact: that legal practices and systems should be based on evidence, 'what works' from the potential of the citizen, and should be able to deliver satisfactory outcomes for the people they serve. Or, in short: sensible, outcome-oriented, and accessible. The peace&justice café on People-Centred Justice will take a cross-sectoral look at achieving these aims, working together with The Hague Humanity Hub community to explore the challenges, pitfalls and success factors of justice innovation at scale 
In the next edition of the peace&justice café, The Hague community will explore the various ways that people centred justice can be achieved in unresolved conflicts and overburdened systems. For more information about our roundtables and speakers you can check the Humanity Hub Social Media accounts and soon our website.
If you would like to participate as a roundabout host, or have a suggestion for a great organisation or keynote speaker you would like to see at this café, please email us at programming@humanityhub.net.
The event starts at 15:00, doors will be open at 14:30
Please note that this is a professional networking event, with a limited number of tickets set aside for students. The Hague Humanity Hub aims to support the next generation of professionals working in the world of Peace & Justice, if you would like to find out more about out Talent Programmes, please see our website!
Organisers:
The Hague Humanity Hub & Municipality of The Hague & The Hague Institute for the Innovation of Law
Before this peace&justice café event there will be a separate side session organised by The Hague Institute for innovation in Law about to give insight into the proposal for the National Growth fund, submitted by 37 consortium partner organisations across the Netherlands. The project aims at strengthening the conflict resolution capabilities in The Netherlands.
You can register for this session separately through this link.
*This will be a hybrid event, with both online and in-person participation possible.
Please note that during The Hague Humanity Hub's events a photographer and/or videographer will be present in order to take picture, for use by The Hague Humanity Hub and its partners in future marketing efforts. These can include social media usage, blog posts, as general marketing material, and to market future events and initiatives.
By attending a Humanity Hub event you give permission for your image to be used to promote The Hague Humanity Hub in the future. You can withdraw your consent by emailing hello@humanityhub.net and specifying the event in question (as well as by providing details to help us identify you). Once consent has been withdrawn, The Hague Humanity Hub will delete any photo of you as soon as is possible.
If you'd like to not be featured in any image and/or video capture in an upcoming event, please notify hello@humanityhub.net and we will take steps to ensure you are not included in any photos or videos. Thank-you for your cooperation.
About the organizer
Supporting and strengthening The Hague ecosystem for a more peaceful and just world.