This is on-line hands-on physician led imaging workshop on LAA closure procedures
About this event
Learning objectives
At the completion of the course participants should be able to:
Understand the imaging modalities used for LAA closure such as echocardiography, angiography and CT.
Have knowledge on CT image acquisition pertaining to LAA closure
Understand the LAA anatomy (shape, ostium, landing zone)
Employ skills in CT image analysis for LAA procedures and assess patient and device candidacy
Dr. Apostolos Tzikas
Dr. Apostolos Tzikas MD, PhD, FESC is a structural heart interventionalist at AHEPA University of Thessaloniki and European Interbalkan Medical Center. He has a long-standing interest in stroke prevention and LAA closure in particular.
Dr. Tzikas is an experienced proctor for LAA closure procedures and has a profound interest and expertise in imaging for LAA closure, with a dedicated focus on CT.
Target audience
Cardiologists and radiologists (imaging and interventional) involved with or interested in learning about LAA imaging
Fellows in training
Industry (engineers, project managers, clinical, R&D, field application specialists)
Hands-on sessions
You will receive a temporary license for 3mensio structural heart LAA for a 60-day period starting 3 days before the hands-on sessions.
This license can be installed on any system with an internet connection.
We advise checking the specs of your system before installing, on the event page you can find more information on this.
You will also be provided with some demo cases so during the hands-on session we can all work on the same datasets
Agenda day 1 (2th of May)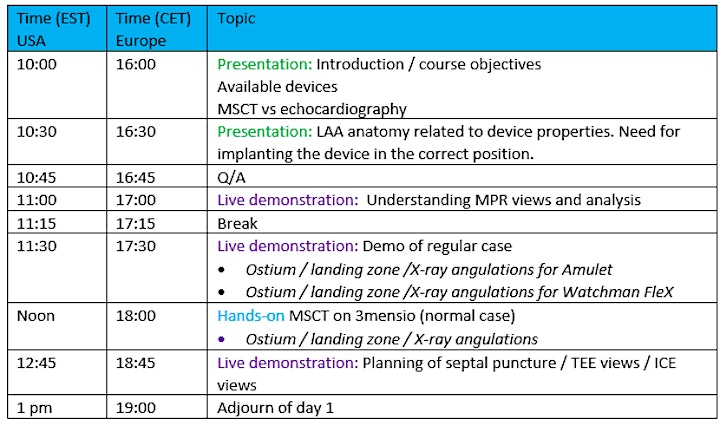 Agenda day 2 (3rd of May)