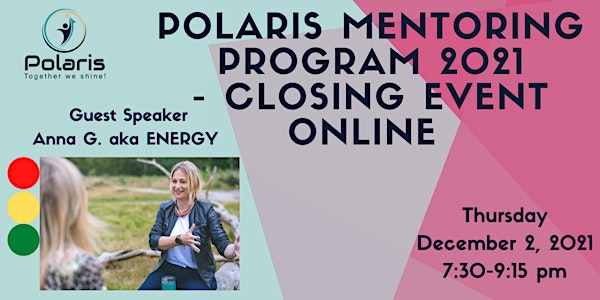 Polaris Foundation Mentoring Program 2021 - Closing Event
Polaris Foundation Mentoring Program 2021 - Closing Event - Online
About this event
Polaris Foundation Mentoring Program 2021
Closing Event - Online
Register now to access the Closing Event of the 2021 Mentoring Program.
Agenda:
19:30 - 19:45 Opening by Polaris Foundation
19:45 - 20:15 Mentoring stories from our Mentees and Mentors
20:15 - 21:00 - "Green. Yellow. Burnout." - interactive workshop by Anna Zoladkiewicz, Co-Active Coach at Anna G. Coaching
21:00 - 21:15 Q&A, Closing by Polaris Foundation
The event will be hosted online via Zoom. The link to the Zoom meeting will be shared only with the registered participants before the event.
Polaris Foundation supports nurturing mental health and well-being. We believe that burnout prevention plays an important role in it. This workshop is free of charge and anyone who needs it, who is curious, who wants to learn or ask questions can join us at 8:15 pm.
Workshop description:
"Green, Yellow, Burnout" - interactive workshop by Anna Zoladkiewicz, Co-Active Coach at Anna G. Coaching:
This workshop is about how to be more selfish without feeling guilty. You will learn about three zones (Green. Yellow. Burnout) and get to know the power of Gratitude and the need for Resilience. All of it will help you to build your strategy to take care of yourself and prevent Burnout.
Message from Anna, our Guest Speaker:
"I am Anna, Anna G. aka Energy. I initially made it in Poland, living in the Netherlands for a little bit over a decade now.
I've been a social worker focusing on refugees and battered women; I've been a construction manager and a salesperson. For over six years, I've been a global manager in the corporation. I led five different teams, more than fifty people on three continents, and had regular Zoom calls with teams before it was popular;-)
In my twenty years of work experience, people have always been at the centre of everything I have done, honouring everyone's uniqueness and preferences. Understanding a person's ambitions gives me insights into the type of support, experiences, partnerships, and nurturing they need to thrive.
After experiencing burnout, I have decided to pursue my passion, and I am a full-time human being coach. With the energy I bring, I empower people to make change within and around them courageously."
#TogetherWeShine
#BurnoutPrevention #MentalHealth #WellBeing
#Leadership #LeadingIntoTheUnknown
#InspireAndImpact
#SharingIsCaring