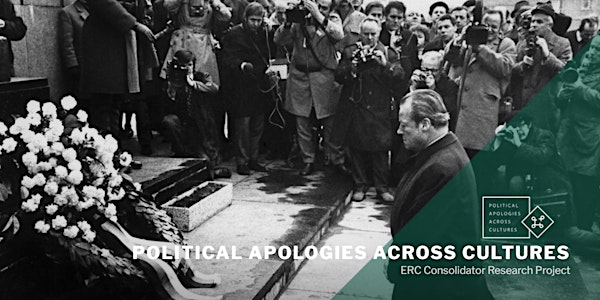 Multiple dates
Political Apologies across Cultures - Seminar Series
ERC Consolidator Project 'Political Apologies across Cultures' - Online Seminar Series
By Political Apologies across Cultures Research Group
Date and time
Thu, 13 Jan 2022 05:15 - Thu, 3 Mar 2022 07:00 PST
About this event
The burden of the past weighs on many countries, which some may choose to deny but which an increasing number of countries have started to acknowledge through the offering of an apology. Although apologies are often seen as essential to redress past human rights violations, this global trend of 'reckoning with' or 'coming to terms' with the past has also raised questions. What is it, that countries try to convey in these apologies, and for the benefit of whom? Do political apologies really mean anything? And what role, if any, can or do apologies play in processes in healing and reconciliation? These and other questions will be addressed by scholars from different disciplines in these online seminar series, organized by the ERC-funded Political Apologies team from Tilburg University.
The seminars are free to attend online and will take place from 14:15 - 16:00 CET. Dates and description below. The Zoom link(s) can be found at the bottom of the confirmation email that you receive once you have registered.
SEMINAR 1 - Understanding the 'Age of Apology' - January 13, 2022
Speakers: Dr. Tom Bentley, Prof. Kieran McEvoy, Prof. Zohar Kampf, Prof. Lisa Villadsen & Prof. Juliëtte Schaafsma
Over the past years, numerous state representatives have offered apologies for past injustices and human rights violations. Scholars have pointed out that this represents a remarkable change in the liability and accountability of states for past events, whereby they no longer ignore, deny, or glorify the past but instead publicly recognize prior wrongdoing in an attempt to 'come to terms with the past'. Although some have applauded this shift and see it as an essential step to restore justice and promote reconciliation in the aftermath of human right violations, there is also skepticism about the sincerity of the phenomenon and whether it actually represents a 'new morality' in (inter)national relations. The aim of this panel is to shed more light on the so-called 'age of apology'. How universal are political apologies? What are key characteristics of the apologies that have been offered? Why have they become so important? Does this indeed reflect a 'new morality' in (inter)national relations?
SEMINAR 2 – The impact of political apologies - February 4, 2022
Speakers: Prof. Leigh Payne, Dr. Sabina Čehajić-Clancy, Prof. Michael Wohl, Dr. Thia Sagherian-Dickey & Marieke Zoodsma
Despite the widespread idea that apologies can be an important step in dealing with past injustices and human rights violations, much less is known about whether and how they are valued and interpreted by members of the victim group as well as members of the group giving the apology. What does a political apology mean to them? Are such apologies perceived as a valid remedial tool in the aftermath of human rights violations by members of the victim group and nonvictim group? If so, what constitutes an appropriate or legitimate apology to different actors? What are their expectations concerning the expression and performance of such an apology, and how can it assist in coming to terms with past wrongs? This panel addresses these and related questions and aims to create a broader understanding of how political apologies are perceived and interpreted by the various actors involved and how they impact intergroup relations and the societies affected by human rights violations. We welcome discussion on the constructive and destructive effects of political apologies.
SEMINAR 3 – The value of political apologies in dealing with past wrongdoings - March 3, 2022
Speakers: Prof. Brandon Hamber, Prof. Alice MacLachlan, Prof. Nicole Immler, Dion van den Berg & Marlies de Groot
Political apologies are often seen as an important element of transitional justice policies and reconciliation processes, together with other measures such as material forms of reparation, truth commissions, trials, and vetting procedures. The aim of this panel is to explore the value of political apologies as a means of dealing with the past, by examining its relevance as a tool for reconciliation, also relative to other mechanisms. We invite speakers to reflect on and discuss how apologies and other transitional justice mechanisms compare and how the different mechanisms are perceived and valued by ordinary people across the world. We also invite discussion on how these perceptions may (mis)align with broader academic and international policy narratives on reconciliation.