Sales Have Ended
Registrations are closed
Almost ready to experience the ultimate start to the acadamic season with us! Did you register using FB ticketbox? to complete your participation following steps are required go to www.eventbrite.nl and sign in or register your profile with your email used with your fb and tickets in your mailbox. Complete required registration information of our privacy statement and participation regulations as stated by the RIVM. This you agree that you have fully understood and consent to waiver any liability to any consequences result from participating. If applicable health checks and confirmation is to be done prior to joining. This is based and depending on changes in regulations by the Dutch RIVM as per September 1st. Only so we can overcome and have grip of current COVID-19 related infections. **** SCAN QR- CODE **** REGISTRATIE VOOR RIVM REGELS
Sales Have Ended
Registrations are closed
Almost ready to experience the ultimate start to the acadamic season with us! Did you register using FB ticketbox? to complete your participation following steps are required go to www.eventbrite.nl and sign in or register your profile with your email used with your fb and tickets in your mailbox. Complete required registration information of our privacy statement and participation regulations as stated by the RIVM. This you agree that you have fully understood and consent to waiver any liability to any consequences result from participating. If applicable health checks and confirmation is to be done prior to joining. This is based and depending on changes in regulations by the Dutch RIVM as per September 1st. Only so we can overcome and have grip of current COVID-19 related infections. **** SCAN QR- CODE **** REGISTRATIE VOOR RIVM REGELS
About this Event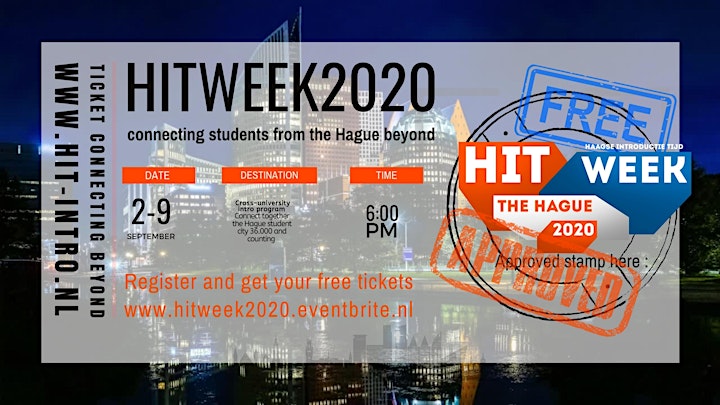 Hello,
I'm writing to inform you that HITweek2020 - Den Haag Introweek has been postponed. Here's some essential information you may need to know about this change.
Changes to this event
Due to covid-19 developments in our community of students and members who have already been positive tested as part of other intro programs we are announcing our social responsibility towards safety and for the time being regret to Inform you of new dates for introduction program where we can have a safe and secure environment. We will update soon. Knowing the above we could not take the risk as this was communicated to us yesterday and so we had to make a easy decision as your safety is priority 
New Dates  To be announced, the Hague's introprogram will happen just under safer circumstances Check in for updates
Keep your ticket as it is still valid and contact us at info@iiam.nl 
Thank you for your continued support and we hope to see you at our next event in the future!
2-9 september, the Hague's introprogram that welcomes and connects students across all universities and programs!!
🎓FREE FOR ALL Freshers and students across our student city community
UNIweek19 was the the first cross academic pilot introweek of our student city The Hague as the fastest growing student city of the Netherlands.
The ultimate experience setting you up for the new academic season.To profile the continuity of a successful pilot program with 7000 participants and profile the students of The Hague, we have changed the name to HITweek Den Haag (Haagse Introductie Tijd).
**** SCAN QR- CODE **** PRIOR TO EVENT
#denhaag #update #denhaag #denhaagstudentenstad #tiktokdance #l#denhaag #denhaagstudentenstad #iiamapp #introweek #hitweek2020 #iiamapp #onethehague #students #universities #universitylife #thuas #inholland #hitelschool #kabk