Location
Het Scheepvaartmuseum
1 Kattenburgerplein
1018 KK Amsterdam
Netherlands
PRIDE Plastic Fishing 2019: Together for plastic-free waters!
About this event
Ahoy all plastic fishermen!
Pride Amsterdam: one of the most colorful events of Amsterdam! This great and loving event however, comes with an unfortunate side-effect: plastic in our beautiful canals.
And that's where you come in! On August 4th we want to involve as many people as possible and sail the canals of Amsterdam together, on the hunt for plastic. And we need your help! PRIDE Plastic Fishing is a collaboration: we can only do this together, and we want to involve as many people as possible. Are you ready to stop talking and start doing?
With the help of 278 people last year, we collected 213 bags of waste. Our aim this year is to bring even more people together, people who care about the plastic problem and who want a clean city. Are you joining us?
The event will take place at the beautiful Scheepvaartmuseum(Kattenburgplein 1) and starts at 12:00. After a short introduction we will hop on our fleet of boats to cruise the canals for plastic! Get your ticket now, it's free, fun and a great way to cure a hangover ;)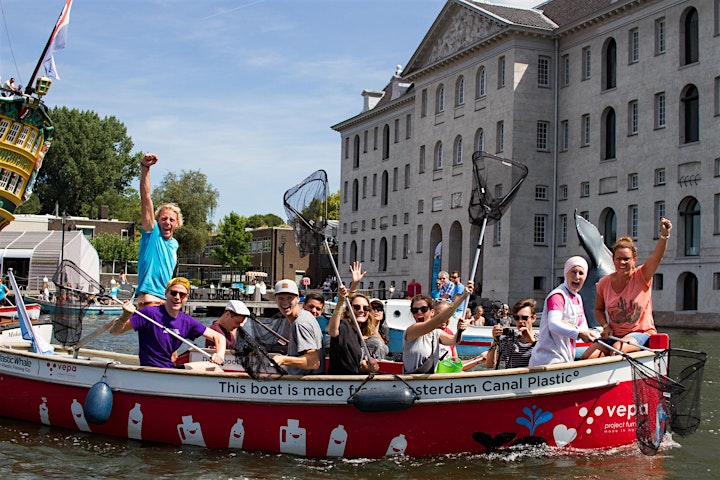 Plastic Whale Foundation
Plastic Whale consists of a social enterprise (BV) and a Foundation, but we all have the same goal: plastic-free waters! The social enterprise organizes team-building trips and builds our beautiful boats and furniture, while the Plastic Whale Foundation focuses on two things: organizing big public events like this one, and activating as may kids as possible via our school- and education program.
The main focus of the Foundation is to educate youngsters about the plastic soup. Since 2014 schoolchildren can go fishing with the Foundation. With a growth in funds and donations, we were able to involve more schools and children than ever before. In 2018 we went fishing with over 2000 kids. Want to know more about how to activate children to be part of the solution, visit our website.