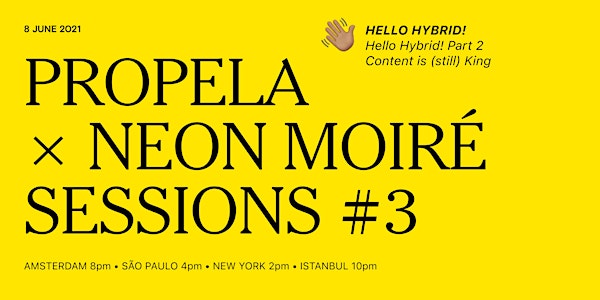 Propela X Neon Moiré Session #3
A series of intimate online conversations for event professionals, by event professionals exploring new opportunities for our industry.
Refund Policy
Contact the organizer to request a refund.
Eventbrite's fee is nonrefundable.
About this event
Events industry veterans Propela and Neon Moiré are excited to invite you to a new series of online gatherings for event professionals, by event professionals where we traverse the opportunities (and challenges) for the events industry.
For each session, we'll be covering a topic that is challenging for organisers around the world. We'll invite leading minds in their fields to help us unpick the year ahead.
👋🏽 Hello Hybrid! Part 2 – Content is (still) King
Audience strategy? Check.
Tech strategy? Check.
Now for the next, final and arguably most important ingredient
✨ the content ✨
Not all content is created equally and not all content translates to an online environment. For our third Propela X Neon Moiré curated session we'll be in the company of four industry experts who have mastered the art and science of creating captivating, engaging, memorable, buzz-worthy experiences online, offline, and a bit of both. They'll share their insights on how to craft your strategy, what works and how to hold your audiences' gaze… particularly when it's easier than ever to wander.
***********
To kick off proceedings, we've invited Sarah Hyndman to create an interactive and multisensory adventure. This is a rare opportunity to experience her most popular virtual Type Tasting session with BYO ingredients that are easy to find in your cupboard.
Sarah has conjured a new way of experiencing fonts during the pandemic and has been joined live by nearly 10,000 viewers. Experience the session, and be inspired by how artists are creating virtual content that can also work offline.
***********
Learn from the content creators that are breaking the mould of what is possible online AND offline.
Meet Sarah Hyndman
What Sarah Hyndman doesn't know about fonts isn't worth knowing! She specialises in exploring culture and the senses through typography and is the author of the bestselling Why Fonts Matter. She creates engaging and interactive multisensory events for on and offline worlds and is the go-to for type-related knowledge - she advises chef Heston Blumenthal on "font science" and co-publishes research with sense expert Professor Charles Spence, University of Oxford. She conjured a new way of experiencing fonts during the pandemic and has been joined live by nearly 10,000 viewers. She's a TEDx speaker who has appeared on shows including BBC Radio 4's Word of Mouth and Channel 4 television's Sunday Brunch.
Meet Klasien van de Zandschulp
Klasien van de Zandschulp designs story-based and participatory experiences that traverse digital and physical worlds. The Amsterdam-based interactive artist explores sensory design, embodiment, rituals, augmented realities, human interaction and (radical) thoughts around our daily technology consumption. She experiments with formats - In collaboration with Emilie Baltz she created the futuristic cooking show called 'EAT TECH KITCHEN' and in partnership with researcher Natalie Dixon, she created the project  'Good Neighbours', an interactive documentary about intimate surveillance and the micro-politics of neighbourhoods. During the recent lockdown, she created 'DISTANCE DISCO', a virtual dancefloor for techno romances... She is the creative director at studio affect lab.
Meet Morgan Catalina
Morgan is an Amsterdam-based curator, producer and holistic sexuality educator. She was a curator at South By Southwest, where she co-founded the SXSW Art Program and was Executive Producer of SXSW Eco. She is exploring how we can take a sense of intimacy, vulnerability and audience connection online. During the pandemic, she hosted the Quarantine Confessions and founded HOTTAKES, a platform to research contemporary sexuality, love and relationships through fresh perspectives and inclusive discussions. The featured artworks interrogate the evolution of intimacy, identity and the very possibility of shared reality in the age of algorithms. Her work revolves around experiential education and establishing meaningful connections between creatives, organizations and the general public.
Meet Jade Coles
Jade Coles is a creative strategist who has spent the past decade designing cultural event programmes that resonate with London's creative, forward-thinking audiences and communities. She has worked with industry leaders in the hospitality space (Shoreditch House), Festivals (Lost Village), cultural institutions (The Southbank Centre) and creative startups (The Collective). Since the pandemic, she has been supporting businesses to pivot hybrid strategies. She has helped OverTime Leader to create insightful virtual fireside chats and is currently heading up digital programming and engagement in Soho Houses digital content team.
To encourage intimate conversations and frank opinions, tickets are limited, and the session will not be published online.
About the curators
Propela is a speaking agency representing a diverse, highly select group of maverick thinkers and global change-makers.
Neon Moiré is a curated design conference guide, podcast and weekly newsletter on the world's most interesting events happening online and around the world.
FAQ
What is included in my ticket?
Access to a 1.5 hour session that includes a networking activity, an expert panel discussion with 4 speakers, lively debate and the chance to meet your peers from around the world.
How do I access this session?
Buy a ticket through Eventbrite and 1 hour before the session starts you will receive an email with a video link (a link to the video broadcast will also appear on the event page for this event.)
What other sessions are coming up?
Follow us on Eventbrite and sign up to our newsletter to be kept in the loop. https://propelaxneonmoire.com/
You can also share your suggestions for future event topics, put yourself as a speaker and opt in to take part in Event Organiser polls by emailing deborah@propela.co.uk.
Accessibility
Please email us if you have any access needs.
Please note Propela x Neon Moire events are safe spaces and discriminatory behaviour and harassment will not be tolerated.
If you have any questions, contact Deborah at deborah@propela.co.uk.
To sign up to our newsletter go to https://propelaxneonmoire.com/