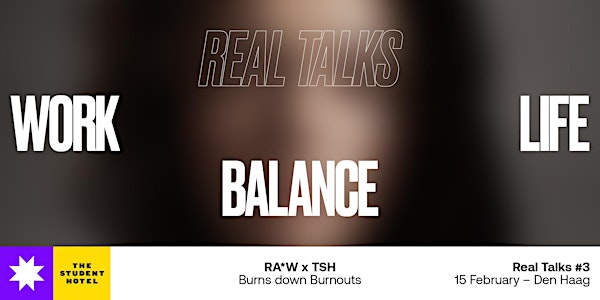 RA*W X TSH |Real Talks #3: Work-life Balance
Diverse young talent is the future. But is the future ready for diverse young talent?
Refund Policy
Contact the organizer to request a refund.
About this event
*This event was moved to February 15 due to covid regulations*
*This event is in English and hybrid (live + digital)*
Deadlines, demanding clients, packed plannings. We all know the creative industry is not all glitter & glam… it's hard work too. In our third Real Talks, we will talk about the stressed, depressed, and anxious creative industry by discussing the topic 'work-life balance'. What it means, what it should be, and foremostly how we can make it a healthy balance. This session will be both live and digital and divided into 3 sections below. For the live event ,we take it outside of the Amsterdam bubble: Real Talks #3 will take place at the Student Hotel The Hague!
–––––
SECTION 1: TALK BY MARGIT NOOTEBOOM
The first speaker is Margit Nooteboom, psychologist at OpenUp: The platform that hundreds of companies worldwide use to give their employees unlimited access to psychologists, mindfulness, and more. Margit values authenticity, reliability, and connection. In daily life, she guides people in the field of prevention and sustainable (behavioural) change, with the aim of improving mental health. Her talk will teach you about subjects such as anxiety, work performance, and finding purpose.
–––––
SECTION 2: TALK BY MAXINE PENNEY
The second speaker is Maxine Penney, culture manager at Mediamonks. Besides being an effective networker and natural communicator, Maxine enjoys people-orientated activities that radiate positive energy in which her goal is to enthuse others. As culture manager at Mediamonks she is responsible for developing and managing D&I programs for Mediamonks in EMEA and APAC regions. Her talk will be about her years in the advertising industry and her experience with work balance while working for one of the holy grail accounts in advertising: Nike.
–––––
SECTION 3: PANEL DISCUSSION
Providing you with plenty of perspectives, our guest speakers for the panel:
Margit Nooteboom – Psychologist at OpenUp
Juliette Hammana – People and culture counselor TBWA
Yvonne Prins - Managing director UM studio
Freek Schuerman – Young Impactmakers
Sophie Benink – Strategist at Glasnost and expert with experience
Panel moderator
Gijs Lammers, RA*W Board Member
–––––
TIMETABLE (subject to change)
19:30 - 19:40 Introduction RA*W x TSH
19:40 - 20:00 Speaker Margit Nooteboom
20:00 - 20:10 Short break
20:10 - 20:55 Panel discussion
20:55 - 21:00 Short break
21:00 - 21:20 Speaker Maxine Penney
21:20 - 21:30 Questions / Toolkit and Aftercare
EVENT DETAILS*
The event will be hosted live (with a limited capacity of 50) at the Student Hotel The Hague, but you can also tune in online.
📅 February 15
💸 €5
🖤 All proceeds of this event will be donated to Haagse Helpers
📍 Live: The Student Hotel Den Haag | Hoefkade 9, 2526 BN **
📍 Digital: Any device with an internet connection
* The live event is subject to possible changes and or adjustments regarding the corona measures.
** Please provide a valid QR code upon entrance. This is required to attend the event offline.
About Real Talks
Real Talks is an initiative by RA*W and The Student Hotel to open up the conversation about taboos in the creative industry. Our aim is to inspire young talent, share insights and build a better future together. With different perspectives, more colour, more opinions, more diversity and more openness. Previous editions of Real Talks have discussed themes such as Stereotyping and Gender inequality.
So let's have a Real Talk about raw topics 💯