Description
Data Science Center Eindhoven, together with IMS and IEC, is organizing a series of monthly RDM lectures during lunchtime. Internal and external experts will provide the talks and video recordings will be shared by default. We organize these this series with the goal to increase awareness, share tips & best practices, learn from each other, make use of existing support and improve this where needed. This series is aimed at scientific + support staff, but open to all. Attendance if free of charge, however registration is required.
RDM lecture #5, by Pieter Van Gorp, is organized on Monday 27 May --- doors open at 12:00 ---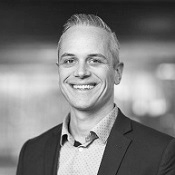 PIETER VAN GORP
Title
RDM experiences in the context of personal health data research
Abstract
In this talk, I will share the key elements of the Data Management Plans of TU/e research projects involving personal health data controlled by TU/e personnel. I will provide an overview of various practical measures we take to handle privacy and security in daily operations. I will also share my personal recommendations regarding the areas where TU/e could deliver meaningful additional services to its data science researchers.
---
How to reach Corona hall in Luna
- Pass through the Hubble Café on the ground floor or
- Use the outside red entrance door behind the Hubble Café