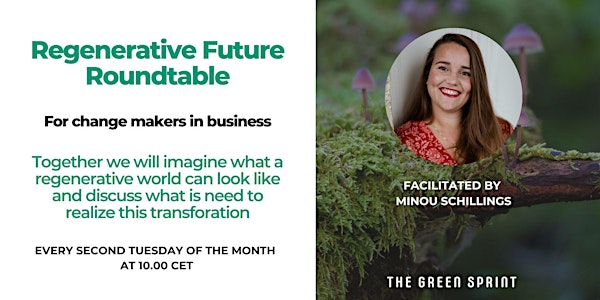 Multiple dates
Regenerative Future Roundtable
A safe & open space to explore the transformation to a just, regenerative and resilient future.
By This event is organized by The Green Sprint.
Date and time
December 13, 2022 · 1am - May 9 · 2am PST
Refund Policy
Contact the organizer to request a refund.
Eventbrite's fee is nonrefundable.
About this event
THE PURPOSE OF THE ROUNDTABLES
To create an open and safe space to explore the transition to a regenerative and just future. Together we can discuss challenges, questions, wonders, frameworks, methods and more.
You are not alone! And we can all (un)learn a lot from every other change maker motivated to realize the transition to a just and regenerative future.
FOR WHO?
Anyone..
who is exploring how to transition to a just and regenerative future.
who beliefs we can only build a better future together.
who doesn't have all the answers yet.
who is ready to (un)learn business as usual.
POTENTIAL TOPICS?
How can you measure regenerative impact on social and ecological systems?
How can you define a regenerative business model?
On which principles can we base radical collaboration?
What does regeneration mean for service-oriented freelancers?
How can we hold space for climate grief?
How can we unleash our imagination and envision a regenerative future?
........ Do you have a topic in mind? Drop me a message!
Only together can we realize a better future. Open spaces, with room for imagination, curiosity, doubt and grief are a great starting point for radical collaborations and deep transformations.
WHEN?
Every second Tuesday of the month from 10.00am to 11.00am CET.
SPECIAL EDITION: Tuesday 10 February we are joined by Regenerative Pioneer Jamie Prow from Make Honey who will introduce a couple of topics we can discuss.
MAX NUMBER OF PARTICIPANTS
Every roundtable max ten participants can join to ensure a lively and in-depth conversation.
FACILITATED BY:
"I am Minou Schillings a regenerative business facilitator, enthusiastic vegan chef, curious explorer and clumsy painter I spend most of my time exploring regenerative pathways with business owners, teams and impact-driven individuals. My Dutch background makes me direct, no-nonsense, down-to-Gaia and efficient. My purpose is to enable others to become compassionate enough to want change, curious enough to imagine change and courageous enough to dare change".
Minou Schilling - https://www.linkedin.com/in/minouschillings/
DONATION BASED EVENT
The donations help to keep the event running and open and accessible for anyone. When funds are limited you are always welcome to join without a donation just drop me a message at minou@thegreensprint.com. When making a donation please do keep in mind the time, expertise and resources that Minou Schillings from The Green Sprint is continuously giving to the creation of accessible and open events.
THOUGHTS OF PREVIOUS PARTICIPANTS
"It was a great opportunity to reconnect and unlearn Minou Schillings thank you for guiding this session! It feels more acute than ever to talk about these 2 things that for long time been disconnected: leadership and regeneration!"
"Thanks to Green Sprint sessions, I quickly realised that there's much more to sustainable business than meets the eye. After attending the few sessions, it became apparent that I was too focused on the here and now when it came to business and strategy--only looking at the past and present without putting too much thought into the future beyond the next 12 months. The sessions helped me adapt a new mindset that incorporated future thinking equipped with powerful, challenging questions. It's not just about what's happening in the here and now, we also need to think about what could happen in the next 5, 10, 15, or 25 years. It's always a blast to learn and discover how we (as a product, design and business driven community) can do our part in creating a more sustainable future!"