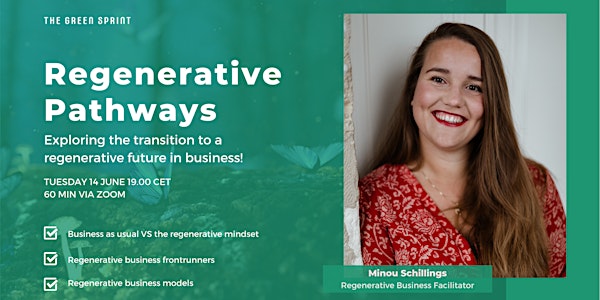 Regenerative Pathways - Exploring Regeneration In Business
Together we will explore the transition to a regenerative future in business.
About this event
Consumers, governments and investors are demanding businesses to decrease negative impact, create positive impact and help tackle global challenges. In-action is no longer an option.
"It's not the strongest species that survive, nor the most intelligent, but the ones most able to adapt to change." - Charles Darwin
It's time to leave the business as usual mindset behind, adapt and embrace the regenerative principles. Only businesses that think long-term and holistically will have a chance of survival in the 21st century.
Join regenerative business facilitator Minou Schillings and in 60 minutes we will explore:
✔️ What regeneration means for businesses
✔️ Business as usual VS the regenerative mindset.
✔️ Regenerative business frontrunners.
✔️ Regenerative business models.
Be Curious, Be compassionate, Be Courageous and embrace Change!