Evenementdetails
Locatie
Amsterdam
13 - 1 Utrechtsedwarsstraat
1017 VV Amsterdam
Netherlands
Beschrijving van het evenement
Beschrijving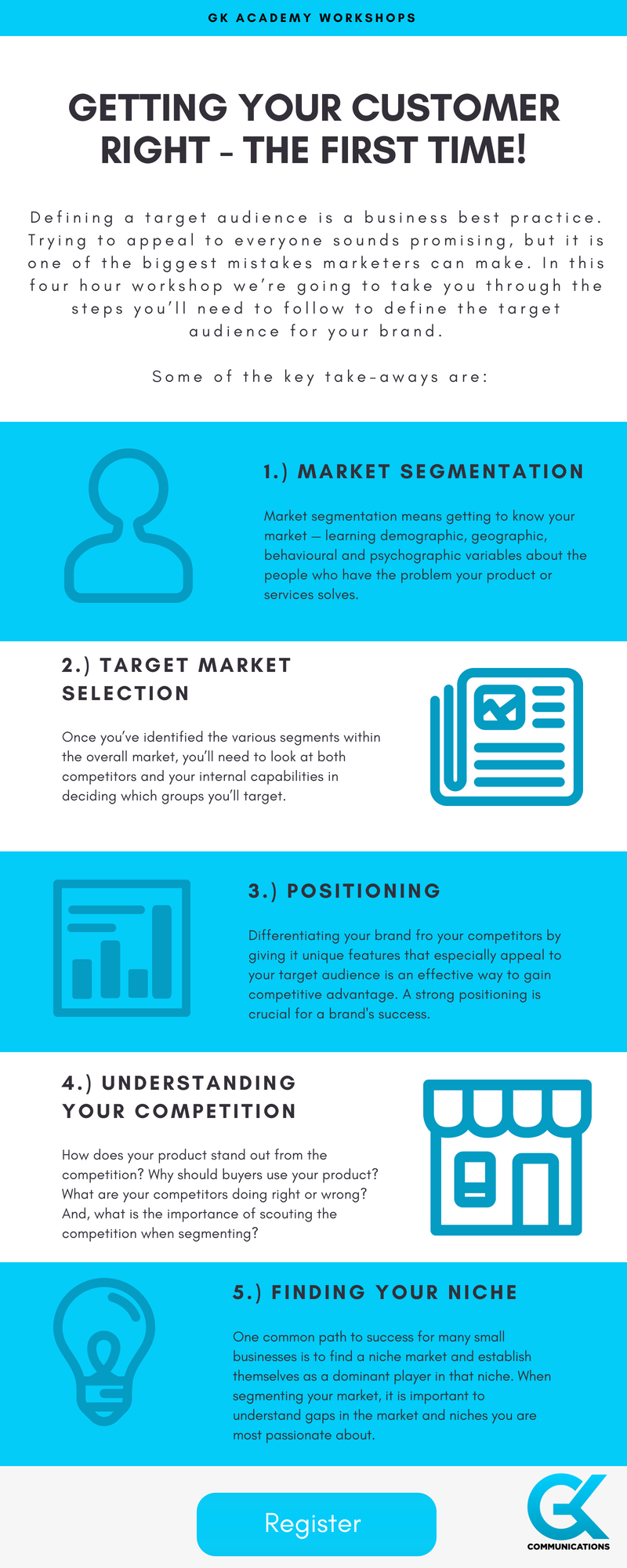 Defining a target audience is a business best practice. Trying to appeal to everyone sounds promising, but it is one of the biggest mistakes marketers can make. In this four hour workshop we're going to take you through the steps you'll need to follow to define the target audience for your brand.

Some of the key take-aways are:
1.) Market Segmentation: Market segmentation means getting to know your market — learning demographic, geographic, behavioural and psychographic variables about the people who have the problem your product or services solves.
2.) Target Market Selection: Once you've identified the various segments within the overall market, you'll need to look at both competitors and your internal capabilities in deciding which groups you'll target.
3.) Positioning: Differentiating your brand fro your competitors by giving it unique features that especially appeal to your target audience is an effective way to gain competitive advantage. A strong positioning is crucial for a brand's success.
4.) Understanding Your Competition: How does your product stand out from the competition? Why should buyers use your product? What are your competitors doing right or wrong? And, what is the importance of scouting the competition when segmenting?
5.) Finding your Niche: One common path to success for many small businesses is to find a niche market and establish themselves as a dominant player in that niche. When segmenting your market, it is important to understand gaps in the market and niches you are most passionate about.
This workshop is 100% in English and designed to meet the needs of business owners, IT managers, senior managers, and other types of managers, this course is right for any person who wishes to develop and/or implement a cohesive segmentation strategy for a company. It's also suitable for those who wish to pursue careers as marketers. The course will give you the ability to boost the impact of your marketing efforts via a powerful segmentation toolkit.
Register today!
Datum en tijd
Locatie
Amsterdam
13 - 1 Utrechtsedwarsstraat
1017 VV Amsterdam
Netherlands
Beleid voor refunds