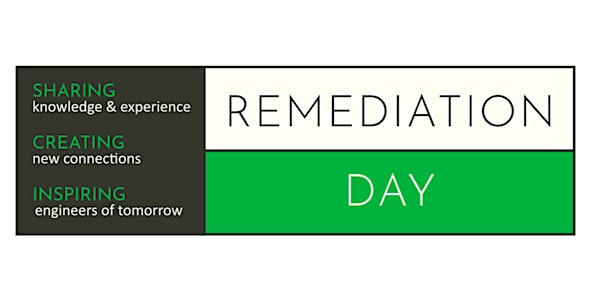 Remediation Day 2020
BUY YOUR TICKETS HERE
When and where
Location
Hotel NH Eindhoven Conference Centre Koningshof 117 Locht 5504 RM Veldhoven Netherlands
About this event
REMEDIATIONDAY 2020
Thé technical (in-situ) soil remediation event where consultants, contractors, suppliers and customers from across Europe come together and share their knowledge and experiences regarding (in-situ) soil remediation techniques and projects.
This upcoming 3rd edition of Remediation Day, to be held on the 6th of February 2020 in Eindhoven, is promising to exceed all expectations. This year, an independant program committee, consisting of highly qualified professionals in the field of soil remediation, have selected the presentations. Also, there will be more room for networking. So if you have joined the first and/or second edition of Remediation Day, you don't want to miss this one!
For our Belgium engineers, rest assures that Remediation Day 2020 will again count for studypoints!
Program Remediation Day 2020
SESSION 1: 'TECHNICAL INNOVATION'
Presentation 1
"THE INNOVATIVE SPIN® INJECTION TECHNOLOGY PUSHES BOUNDARIES OF IN SITU SOIL REMEDIATION: CASE STUDIES"
Presenter: Jeroen Vandenbruwane (Injectis, Belgium)
Presentation 2
"ON-SITE STIMULATED PHYTOMANAGEMENT APPROACHES OF CONTAMINATED SITES: A TOOL TO FOSTER THE REMEDIATION MARKET VIA A SUSTAINABLE AND ECONOMICALLY FEASIBLE WAY"
Presenter: Panagiotis Gkorezis (TerraCorrect bvba, Belgium)
Presentation 3
"ZUNUREC: PURIFICATION AND NUTRIENT RECUPERATION"
Presenter: Jonas Wittocx (Verhoeve Milieu & Water, Belgium)
SESSION 2: 'MEASURE & MODEL'
Presentation 4
"GENETIC PLUME PROFILING: INTERACTIVE DASHBOARD WITH COMPLETE NATURAL DEGREDATION CAPACITY USING BIG DNA-DATA"
Presenters: Marc van Bemmel (Orvion, The Netherlands)
Presentation 5
"REALTIME GROUNDWATER FLOW & DIRECTION MEASUREMENT IN A RESTORED TIDAL MARSH ALONG THE SCHELDT ESTUARY"
Presenter: Goedele Verreydt (iFLUX, Belgium)
Presentation 6
"ACTIVE SITE LNAPL RECOVERY: A NEW INNOVATIVE APPROACH TO MEASUREMENT, MODELLING & PREDICTION"
Presenter: David Holmes (Ecologia Environmental Solutions Limited, United Kingdom)
SESSION 3: 'PFAS'
Presentation 7
"DEVELOPING A NEW PFAS TREATMENT TECHNOLOGY (DE-FLUOROTM)"
Presenter: Rick Parkman (AECOM, United Kingdom)
Presentation 8
"OZOFRACTIONATION; A NEW PROVEN TECHNOLOGY SUITABLE FOR THE REMOVAL OF PFAS FROM GROUNDWATER OR WASTEWATER"
Presenter: Wim Plaisier (Arcadis, The Netherlands)
SESSION 4: 'TESTING'
Presentation 9
"PILOT-SCALE TEST FOR THE TREATMENT OF HYDROCARBONS-CONTAMINATED SOIL BY PHYTOREMEDIATION AND BIOPILES"
Presenter: Tatiana Stella (M3R - Monitoring and Management of Microbial Resources srl and University of Milano-Bicocca, Italy)
Presentation 10
"REACTIVE VAPOUR BARRIERS: THEIR DEVELOPMENT, TESTING AND POTENTIAL FOR FIELD APPLICATION TO PREVENT VAPOUR INTRUSION"
Presenter: Niels Hartog (KWR Water Research Institute, The Netherlands)
Click on the videolink below to see two of our guests from Denmark sharing their experience of Remediation Day 2018 in Mechelen.