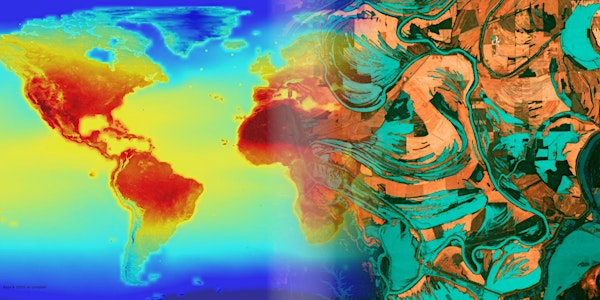 Remote Sensing – Deployable Analysis Environment (RS-DAT) demonstration
An alliance project between the eScience Center and SURF focused on facilitating remote sensing and Earth Observation based science.
When and where
Location
Amsterdam Science Park 106 (matrix 7) Science Park 106 1098 XH Amsterdam Netherlands
About this event
The eScience Center and SURF would like to invite you for a live demonstration of the tools we developed in "Remote Sensing Deployable Analysis Environment" alliance project, where we aim to provide scientists with tools to access EO/RS data and analyze it, while enabling them to use the massive storage and infrastructure offered by SURF. The demonstration will be followed by a discussion where we would like to receive your feedback and explore your needs to be able to address them better in future work.
The explosive proliferation of publicly available Earth Observation and Remote Sensing (EO/RS) data represents a potentially transformative resource for scientific disciplines ranging from geoscience to ecology, as well as for industry and society.
The benefit, both scientific and societal, achievable with this big Geodata, however, is hampered by its sheer scale — established workflows on local infrastructures, e.g. downloading and processing on a laptop, workstation, or even local cluster, cannot cope. Thus, appropriate hardware and software tools become a formidable, deal-breaking, challenge for scientists and citizens alike.
As the national center for research software and the national provider of computational infrastructure, the eScience Center and SURF have taken up this challenge. Building on its expertise and the experience developed in joint projects with scientists the eScience Center is positioning itself as a hub of excellence for EO/RS data handling, computing and analytics, while SURF is building the infrastructure and services to allow for innovative research that will result from big Geodata.
Together the eScience Center and SURF have been developing RS-DAT, a Remote Sensing Deployable Analysis Environment. Our environment provides scientists with tools to access EO/RS data and analyze it, departing from their accustomed workflows but enabling them to use the massive storage and infrastructure offered by SURF.
Driven by the common needs across a range of eScience research projects addressing modern EO questions, we have focused on providing generic tools to fulfil them. Each tool will be delivered with a dedicated tutorial, a demo, and with a deployment recipe on SURF facilities, to promote and ease the environment's adaptation by the scientific community.
In this demonstration session we will present live demos of tools for:
Retrieval, storage and access of remote sensing and earth observation data (at scale) using the STAC standard in combination with SURF's storage systems
Scalable analysis of EO/RS data sets using Dask clusters on Snellius, SPIDER, and SURF Research Cloud. This includes simplified set-up an interaction based on Jupyter Notebooks, placing the power of scalable systems at your fingertips with the ease of your accustomed notebook.
Simple scalable deployment of containerized (e.g. Docker) workflows, enabling analysis at scale with established workflows.
Following the live demonstration, we will open the floor for discussion, and we hope to gather your feedback to inform us of our future work in the ever-growing digital heavy world of remote sensing.
LOCATION: The meeting will take place at Amsterdam Science Park in MATRIX SEVEN building in the meeting room "Blue & Red". A vegetarian lunch will be included.
REGISTRATION: The demonstration will be hybrid, but please register ONLY if you are going to attend in person. If you will join us virtually, please send a confirmation email to: y.dzigan@esciencecenter.nl.
Joining online:
Meeting ID: 376 378 529 326
Passcode: ehPs9r