Resituating Colonial Archives | Session I: Navigating the Collection
The first session in a series of workshops exploring ways to improve accessibility and future collaboration regarding ex-colonial archives.
About this event
Session I: Navigating the Collection / Sesi I: Jelajah Koleksi
12:30 – 15:00 hr (CET) / 18:30 PM - 21:00 hr (GMT+7)
What is the National Collection of Dutch Architecture and Urban Planning, and why does it contain so many documents concerning built environments in Indonesia? How can we access these documents, and to what extent can we use them? In this online session, archivists from Het Nieuwe Instituut and the working group members of Collecting Otherwise discuss the archives held by the institute and the initiatives taken to make the collection more visible, inclusive and accessible.
Apa itu Koleksi Nasional Arsitektur dan Perencanaan Kota Belanda, dan mengapa di dalamnya terdapat banyak dokumen mengenai lingkung bangun di Indonesia? Bagaimana kita dapat mengakses dokumen-dokumen itu, dan sejauh apa kita dapat menggunakannya? Di sesi daring ini, arsiparis Het Nieuwe Instituut dan kelompok kerja Collecting Otherwise mendiskusikan berbagai arsip yang dikelola oleh institusi tersebut serta inisiatif-inisiatif untuk membuat koleksi itu lebih tampak, inklusif, dan terbuka.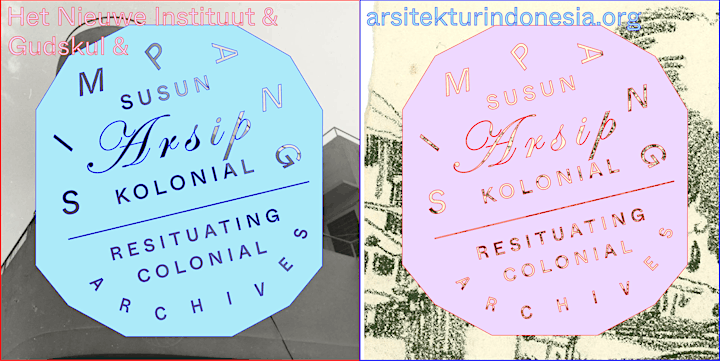 Resituating Colonial Archives / Simpang Susun Arsip Kolonial
This public workshop is part of a series of workshops and a public exhibitions exploring ways to improve future collaboration and accessibility to the ex-colonial archives stores in Rotterdam as part of the Dutch National Collection. Het Nieuwe Instituut joins forces with Indonesian platforms Gudskul and arsitekturindonesia.org to explore how Indonesian researchers, artists and architects can enjoy better access. For more information about this event series, visit our website.
Sesi terbuka ini adalah bagian dari rangkaian lokakarya dan pameran yang menelusuri berbagai kemungkinan dalam mengembangkan akses dan kolaborasi seputar arsip-arsip eks-kolonial yang disimpan di Rotterdam sebagai bagian dari Koleksi Nasional Belanda. Het Nieuwe Instituut bekerja sama dengan Gudskul dan arsitekturindonesia.org untuk membuka akses bagi periset, seniman, dan arsitek Indonesia. Untuk informasi mengenai rangkaian acara ini, kunjungi situs kami.
Session IV: Public Presentations / Sesi IV: Presentasi Terbuka
You can also join the next online workshop that is open to the public, Session IV: Public Presentations, on 12 January 2023, where participants are offered space to test and circulate their work in the form of public presentations.
Anda dapat mengikuti sesi daring berikutnya yang terbuka untuk publik, Sesi IV: Presentasi Terbuka, pada 12 Januari 2023, yang bertujuan membuka ruang bagi para partisipan lokakarya untuk menguji dan membagikan karya mereka dalam bentuk presentasi.