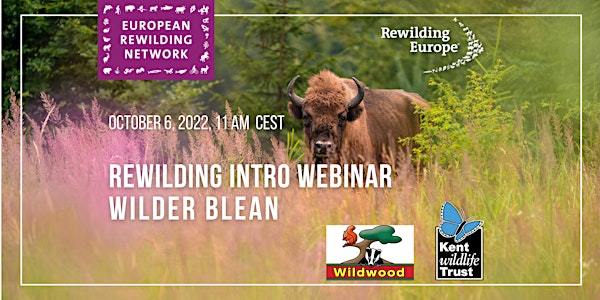 Rewilding Intro Webinar - European Rewilding Network presents Wilder Blean
Rewilding Intro Webinar - European Rewilding Network presents Wilder Blean
About this event
Join us!
This October the European Rewilding Network (ERN) is hosting its tenth 'Rewilding Intro' event, a mini-webinar series through which ERN initiatives share their rewilding success stories.
Today rewilding is gaining momentum as a progressive and effective approach to conservation in Europe. Underpinning this trend, the burgeoning European Rewilding Network, with 84 members from 27 European countries, continues to foster collaboration and amplify results.
This time our ERN member, Wilder Blean, is taking us on a journey to the British woodlands.
Restoring keystone species and ecosystem engineers
The flagship Wilder Blean project has a pioneering and innovative strategy to restore keystone species and ecosystem engineers to one of the largest areas of ancient woodland in the UK. The mission of the project is to promote stronger and dynamic habitats that are able to withstand the current environmental crisis and support nature recovery in the long-term.
Wilder Blean aims to bring transformational change through a controlled trial with bison; a missing keystone species that is able to naturally manage woodlands. A key part of this project is extensive consultation and engagement with local landowners, interest groups and residents who know and love this area.
Their large fenced areas allow introduced herbivores to be able to freely move around the project and create a mosaic of habitats. The introduced herbivores include low numbers of European bison, Exmoor ponies, English longhorn cattle and Iron age pigs. These will kick-start natural processes within the woodland, creating naturally regenerating areas, clearings and a mosaic of habitats to support an abundance of wildlife.
ERN Intro will welcome Stan Smith, Wilder Landscapes Manager at Kent Wildlife Trust, and Vicki Breakell, Conservation Officer at Wildwood Trust, who will share the story of Wilder Blean. They will tell you all about this exemplary initiative and its progress, challenges and achievements in their efforts to restore ancient British woodlands.