RIMA Projects Pitching Event
On RIMA and SPRINT Robotics are partnering with TNO and University of Twente to bring you a RIMA Projects Pitching Event
When and where
Location
Amsterdam RAI 24 Europaplein 1078 GZ Amsterdam Netherlands
About this event
The RIMA Project Pitching Event gives an opportunity for the SMEs funded by RIMA in the Open Calls to pitch their solutions in front of an end user and VC panel. The SMEs will be able to receive feedback from industry experts, the end users and VCs will get a front row seat to the latest I&M robotic developments in Europe.
RIMA Project Domains - I&M Robotics within the following sectors:
O&G and Petrochemical
Nuclear
Water
Energy
Transport
Infrastructure
September 27 & 28, the SPRINT Robotics World Conference for Inspection & Maintenance Robotics is coming to Amsterdam – RAI. Throughout the span of the four-year RIMA project, SPRINT Robotics has partnered with RIMA, functioning as the central coordinator and main entry point of the RIMA Network Community. The SPRINT Robotics World Conference is an industry-specific event that brings together the global I&M Robotics community. Take a look at the two-day program and register here: conference.sprintrobotics.org
*RIMA members, DIHs and SMEs can avail different discounts on Conference and Exhibition Passes. Please log in to the RIMA Network community or contact info@rimanetwork.eu for further information.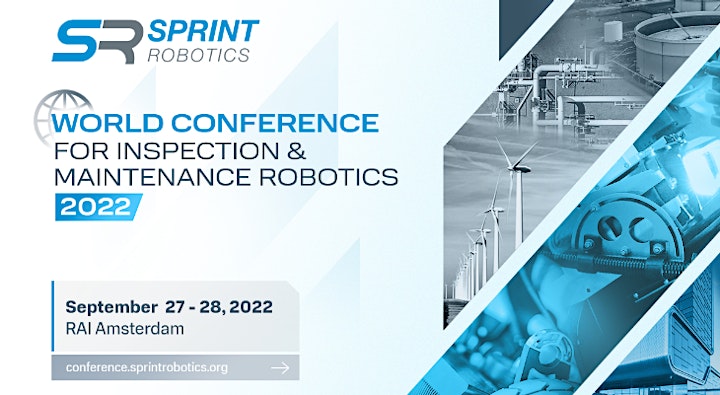 RIMA
RIMA is a 4-year project, funded by European Horizon2020 program, facilitating the innovation of robotics in I&M in Europe. RIMA connects and inspires key stakeholders in I&M robotics and aims to accelerate innovation and uptake of robotics between these stakeholders with the support of Digital Innovation Hubs. RIMA focuses on six industries: water, nuclear, energy, oil&gas and chemical, transport routes and buildings, transport, cargo and mobility.
Join the community: https://community.rimanetwork.eu/
SPRINT Robotics
The SPRINT Robotics Collaborative is a global, industry-driven initiative that promotes the development, availability and application of robotics techniques in technical inspections, maintenance and operation of capital-intensive infrastructure. The collaborative aims to achieve field use of I&M robotics of capital-intensive infrastructure assets on a large scale to address immediate needs and long-term industry priorities. In moving towards this goal, one major focus of SPRINT Robotics is to engage and bring together the whole value chain, from end users to service and technology providers.
Founded in 2015, SPRINT Robotics has become an internationally recognized platform for I&M robotics with a support base of nearly 100 organizations globally.