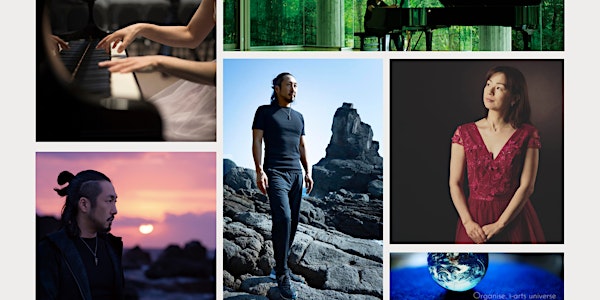 Rising Soul - Muziek tijd van Japanse componisten en pianisten
Tempei Nakamura World's First Ever Challenge All European Country Camping Car Tour 2019&2022- FINAL
When and where
Location
デ・フェベールディング De Verbeelding 25 3892 HZ Zeewolde Netherlands
Refund Policy
Contact the organiser to request a refund.
Eventbrite's fee is nonrefundable.
About this event
2 Japanse componisten en pianisten zullen fantastische muziek uitvoeren, van Japanse muziek tot eigen composities en meer.
Dit concert wordt gehouden als het laatste concert van Tempei Nakamura Europese tour 2019 & 2022.
This concert will be held as the final concert of Tempei Nakamura European tour 2019 & 2022. Japanese composers and pianists will perform fantastic music, from Japanese music to original compositions and more.
`Program (Subject to change)
Yoshimi Kawai
1. Medley by improvisation - From Japanese traditional songs
2. From Suite "heart to heart" - Yoshimi
Freely
3. For you all -Yoshimi
4. Medley by Improvisation- Japanese landscape and film music
5. From Kandinsky Album "Soul"- Yoshimi
Time of Rembrandt -350 Years-
Composition- Noah's Ark
Nina -To the Unknown Voice-
Geometry
Cosmos
Impression-Concert-
Tempei Nakamura
1. Ichigo-Ichie (Carpe-Diem)
2. Akatombo (Red Dragonfly)
3. Suite "Claude Monet & I"
Love Story in Montmartre
Love's Demise
4. Slava Ukraini
5. Spiritual Road
6. Carol of the Bells
7. Suite "RISING SOUL"
OMEN of Pandemic
Love (for COVID-19 Fighters)
RISING SOUL
Tempei Nakamura – componist / pianist (https://tempei.com)
Pianist en componist Tempei Nakamura, geboren in Kobe, Japan, begon zijn pianostudie op 5-jarige leeftijd. Op de middelbare school werd zijn huis verwoest door de Grote Hanshin-aardbeving. Hij stopte met de middelbare school om in de sloopindustrie te gaan werken. Hoewel hij tijdens zijn middelbare en middelbare schooljaren nooit piano speelde, werd hij toegelaten tot de muziekschool en ging hij studeren aan de Osaka University of the Arts, waar hij afstudeerde aan de top van de pianocursus. In 2006 verhuisde hij naar New York City om zijn carrière internationaal voort te zetten. In 2008 maakte hij zijn cd-debuut bij EMI Music Japan. In 2010 maakte hij zijn solorecitaldebuut in Carnegie Hall, New York. Hij treedt jaarlijks op in Europa en heeft concerten gegeven in het Concertgebouw in Amsterdam, Maison de la culture du Japon à Paris, het Japans-Duitse Berlijnse Centrum en andere podia in verschillende landen, waaronder Spanje, Portugal, Italië, Oostenrijk, Luxemburg, Estland, Slowakije, Oekraïne en Wit-Rusland. Daarnaast heeft hij landelijke tournees door Japan gemaakt en concerten gegeven in 'onontgonnen regio's' zoals de Kumano-kodo, een geregistreerd werelderfgoed. Hij heeft zijn "Rising Sun"-project opgedragen aan de wederopbouwinspanningen van de Great East Japan Earthquake, en werd in 2015 door de Hyogo Prefecture Artists Society geëerd met de Award for the Advancement of the Arts. Hij is momenteel gevestigd in New York City en Tokio.
Tempei Nakamura – composer / pianist (https://tempei.com)
A native of Kobe, Japan, pianist and composer Tempei Nakamura began his studies on the piano at age 5. In junior high school, his home was destroyed by the Great Hanshin Earthquake. He dropped out of high school to work in the demolition industry. Although he never played the piano during his junior high and high-school years, he was accepted into music school and went on to study at the Osaka University of the Arts, where he graduated at the top of the Piano Course. In 2006, he relocated to New York City to pursue his career internationally. In 2008, he made his CD debut from EMI Music Japan. In 2010, he made his solo recital debut at Carnegie Hall, New York. He performs annually in Europe and has held concerts at the Concertgebouw in Amsterdam, Maison de la culture du Japon à Paris, Japanese-German Berlin Center and other venues in various countries including Spain, Portugal, Italy, Austria, Luxemburg, Estonia, Slovakia, Ukraine and Belarus. Additionally, he has gone on nationwide tours of Japan and held concerts in "unexplored regions" such as the Kumano-kodo, a registered World Heritage Site. He has dedicated his "Rising Sun" project to the reconstruction efforts of the Great East Japan Earthquake, and was honored by the Hyogo Prefecture Artists Society with the Award for the Advancement of the Arts in 2015. He is currently based in New York City and Tokyo.
Yoshimi Kawai - Componist/Pianist
Yoshimi werd geboren in Aichi, Japan. Ze studeerde aan de Nagoya University of Arts. In 2000 verhuisde ze naar Nederland, en vervolgt haar studie bij mevrouw Noortje Brons en de heer Willem Brons en mevrouw, en Shoko Sugitani. Yoshimi heeft veel opgetreden en gaf solo-, duo- en salonconcerten met klassieke muziek en haar eigen composities in Japan en Nederland. Onlangs studeert Yoshimi sinds 2021 muziektherapie aan het ArtEZ Conservatorium in NL, aan de andere kant maakt ze improvisatiemuziek en soundscape-muziek.
Yoshimi Kawai - Composer/Pianist
Yoshimi was born in Aichi, Japan. She studied at Nagoya University of Arts. In 2000 she moved to the Netherlands, and continues her studies under Mrs. Noortje Brons and Mr. Willem Brons and Mrs, and Shoko Sugitani. Yoshimi has performed extensively, giving solo, duo, and salon concerts with from classical music and her own compositions in Japan and the Netherlands. Recently, Yoshimi has been studying music therapy at ArtEZ Conservatorium in NL since 2021, on the other hand she has been creating improvisational music and soundscape music.