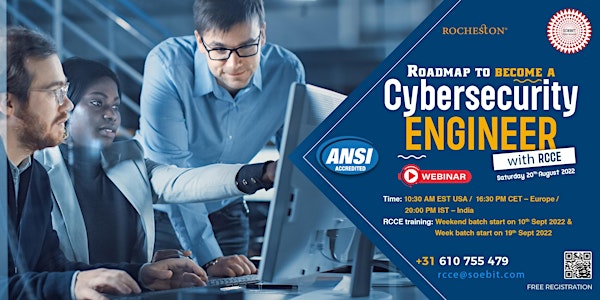 Roadmap to become a Cybersecurity Engineer with RCCE
Roadmap to become a Cybersecurity Engineer with RCCE
About this event
Roadmap to become a cybersecurity engineer with RCCE
SOEBIT Cybersecurity (Europe) & Rocheston (USA) presents this FREE webinar. Attend this Free webinar explaining the benefits of taking the Rocheston Certified Cybersecurity Engineer (RCCE) Training where you will gain an insight into hacking technologies and tools.
About RCCE COURSE: The RCCE® Level 1 course will delve into the basics of cybersecurity along with hands-on labs. RCCE1 covers the foundation of hacking technologies.
RCCE COURSE OBJECTIVE: Cybersecurity threats, attacks and defenses - Information gathering and network scanning - Cyber Vulnerabilities - Web Application Attacks - Web shells, Spywares Backdoors - Denial of Service Attacks - Packet Sniffers and Network Analyzers - Password Cracking - Wireless Hacking - Firewalls and IDS -Hacking Frameworks – Cryptography - Malware attacks - Phishing Attacks - Hacking-Facebook,Twitter, WhatsApp, etc - Hacking Cloud Computing -Hacking Cloud networks - Supply Chain Attacks - Mobile Phone Hacking - Webserver Hacking - Patch management - Malware analysis - Penetration Testing - Policies and Procedures -Incident Response - Artificial Intelligence in security - Cyberthreat Intelligence - Scripting Languages - Network Defender.During this webinar we will talk about :
Roadmap in Cybersecurity
12 Domains of the RCCE 1 Training program
Certifications
Cybersecurity jobs
many more.
Speakers:
Soenil Soebedar - Founder SOEBIT Cybersecurity, Senior security consultant & Penetration tester with 29+ years IT Experience (9 years Cybersecurity)
Rahul Sharma - Co-Founder Blue code security solutions , Senior Security consultant & Corporate Trainer- IT & Information Security with 14+ years of IT & Cybersecurity experience
Note: 4 days before the webinar, you will get an email with the Zoom link to join.
CONTACT:• For RCCE Training prices & more information : https://forms.gle/rrJ3QAvczZ6we9EU8
• rcce@soebit.com, +31 610755479 (Whatsapp) • https://soebit.com