Sales Have Ended
Ticket sales have ended
Helaas kan je geen tickets meer kopen voor deze masterclass. Ga naar kimberlyofori.com en check de beschikbaarheid voor overige dagen.
Sales Have Ended
Ticket sales have ended
Helaas kan je geen tickets meer kopen voor deze masterclass. Ga naar kimberlyofori.com en check de beschikbaarheid voor overige dagen.
Leer de principes van de zelfleiderschap methode die top vrouwen voor jou heeft geholpen succesvoller te zijn in hun carrière en business.
About this event
Je bent jouw huidige situatie ontgroeid.
Je weet dat je meer in je mars hebt, en plannen heb je genoeg.
Je hebt vaak nagedacht over hoe je verder wilt in je carrière of met je startende onderneming.
En als je eerder dacht wel te weten wat je echt wilde, ben je af en toe toch aan jezelf aan het twijfelen. Aan je kennis en kunde, of je wel genoeg in huis hebt om het echt te maken. En dan loop je vast.
Wat als ik je iets vertel, wat je eigenlijk al weet?
En dat is dat jij het al in je hebt om al jouw doelen te bereiken, hoe groot ze nu ook lijken.
Tijdens deze inspirerende Built to Lead - persoonlijk leiderschap Masterclass neem ik jou een halve dag mee in de methode die velen vrouwen voor jou heeft geholpen nu echt voor die droombaan te gaan, dat bedrijf op te zetten en om echt wat te gaan doen met hun talent genaamd The Lead Method.
Jouw toekomst ligt in jouw handen, neem vandaag de leiding!
Achtergond van The Lead Method
Kimberly Ofori is een serie-ondernemer, Internationale spreker, Voorzitter VOAW, Directeur Ofori&Co en lid van de Raad van Advies van meerdere snelgroeiende internationale bedrijven.
Op basis van haar extensieve ervaring op het gebied van leiderschap, ondernemen en jarenlange verzameling van verschillende onderzoeken heeft Ofori alle zelfleiderschap methoden en lessen gebundeld in één raamwerk - The Lead Method, de methode waarmee tientallen vrouwen leiding hebben genomen over hun toekomst.
Vandaag de dag word Kimberly Ofori over de hele wereld uitgenodigd om te spreken en om deze methode aan te leren door middel van trainingen.
---
Programma (4 uur)
12:45 - 13:00 Inloop met koffie en thee
13:00 Kick-off introductie facilitator & Introductie Lead Method
13:30 Praktijk deel 1: Visie, Missie, Waarde
14:30 koffie pauze
14:45 Kick-off & Praktijk deel 2: Doelstellingen, Strategie, Executie plan
17:00 Reflectie & afsluiting met mogelijkheid voor netwerken
Er zullen door de middag heen meerderen momenten zijn om even de benen te strekken en om naar de toilet te gaan.
Come connect, Learn, Grow and be inspired.
It's your time to lead - Schrijf je vandaag nog in!
Wij zullen voor dit evenement de dan geldende corona maatregelen handhaven.
Voor meer informatie:
T: +31 (0)6 879 83 075
E: assistant@kimberlyofori.com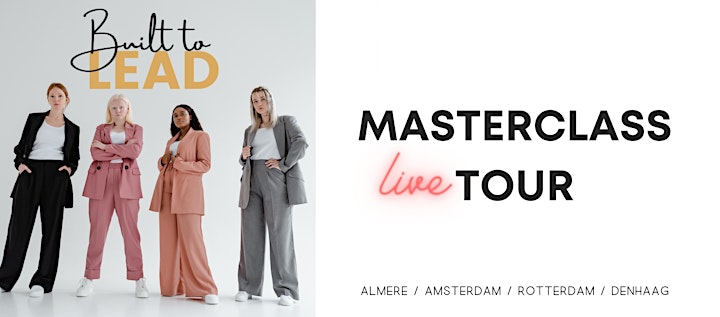 Organizer of Rotterdam - Masterclass Persoonlijk leiderschap
Thanks to her rather unconventional corporate and entrepreneurial career; from climbing up the career ladder starting at very young age, to working and living in the Middle East, Africa and Europe where she founded and sold two companies - Kimberly has amassed a tremendous amount of knowledge and experience on what it takes to choose to be in the lead of your own life, in your career and on leading others. Kimberly is currently the Managing director of Ofori&Co and founder of Built to Lead the Women Leadership program.