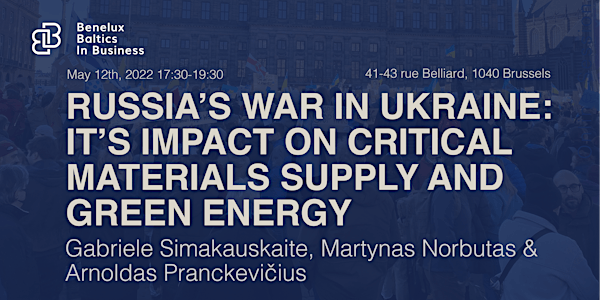 Russia's war in Ukraine: it's impact on Critical Materials supply and green
On May 12th join #BBinB event – Russia's war in Ukraine: it's impact on Critical Materials supply and green energy.
When and where
Location
Permanent Representation of Lithuania to the European Union 41-43 rue Belliard 1040 Brussel Belgium
About this event
Register until Wednesday, 11th of May.
About the event
The elephant in the room is Europe's dependence on the vast quantities of hydrocarbons that flow from Russia into Europe. The Ukrainian people are bearing the heaviest weight of the war, but it has had grave consequences for global energy markets as well. Due to the EU's reliance on natural gas, together with the US, it has maintained loopholes in their economic sanction packages.
The Russian-Ukrainian war is one wrench in global energy markets, another being climate change. Teetering on this precipice with climate change while simultaneously surviving the war is generating a new framework for understanding global energy markets. A nation's national energy policy is a cornerstone of its national security policy. Energy independence means relying on national or local sources of energy. A well-functioning global market is what the EU needs to be able to decarbonize its economy, energy, and transport sectors.
While the focus on building the renewables capacity had already been significant prior to the war, the events in the recent months have shown that to fully achieve climate neutrality ambitions, the EU will have to speed up the deployment of alternative fuels infrastructure for vehicles, and better plan for the electricity grid upgrades and international coordination.
About the speaker Gabriele Simakauskaite
Gabriele Simakauskaite is a Senior Consultant in Mobility & Energy practice at Dentons Global Advisors Interel. Through her work Gabriele is closely involved with the developments of the EU's energy and transport policies, particularly through the prisms of greening of the economy, and lately, the war in Ukraine. Having obtained an LLM in EU Energy and Climate Law at the University of Groningen in the Netherlands, Gabriele has a global understanding of the current policy and political realities in the fields of energy and transport and on how it influences the EU economy and climate neutrality ambitions.
About the speaker Martynas Norbutas
Martynas Norbutas is a former vice minister of Environment of the Republic of Lithuania. He hold Semiotics Master's degree and has working experience in both private and public sector. For more than fifteen years, he been engaged in various capacities related to a work at public administration, politics, public relations. He was involved in the development of the Lithuanian national climate change strategy, leading Lithuania delegations at Espoo Convention parties meetings, defending Lithuania position at OECD environment committee during the accession process.
He is currently working in the European Parliament's Green Group, drafting proposals, amending legislation and taking part in shaping different communication strategies. He is enviromentalist, more than ten years working with projects at different NGO's, promoting environmental ideas and solutions. Martynas believes in the importance of educating people not only on the issues, but focusing on solutions, to empower individuals to create a real change. He used to work as public relations, propaganda lecture at Vilnius University. Because of this experience, he is highly interested in monitoring and revealing the rhetorical tricks and hidden special interests behind persuasion campaigns.
Agenda
17:30- 18:00 Reception
18:00- 18:15 The opening statement by Jurga Baltram Co-Founder Benelux Baltics in Business
18:15-18:30 The welcome message by Arnoldas Pranckevicius Ambassador, Permanent Representative of Lithuania to the EU
18:30-18:50 Main speaker, Gabriele Simakauskaite is a Senior Consultant in Mobility & Energy practice at Dentons Global Advisors Interel
18:50-19:10 Main speaker, Martynas Norbutas former vice minister of Environment of the Republic of Lithuania
19:10-19:30 closing statement Simonas Satunas & Virginijus Sinkevcius Head of Cabinet of Commissioner V. Sinkevicius. ex-Permanent Representative of Lithuania to the EU
19:30-20:30 exhibition ESCAPES by RENATA GIBAVIČIŪTĖ