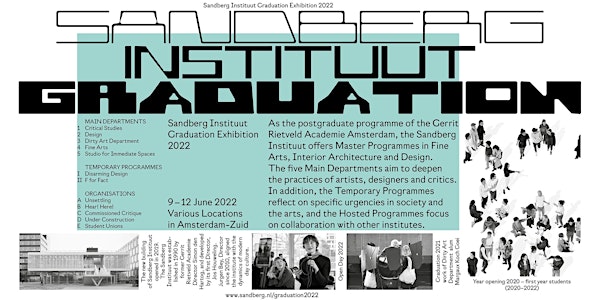 Multiple dates
Sandberg Graduation Exhibition 2022
Sandberg Instituut's 2022 Graduation Exhibition in Amsterdam-Zuid Thursday 9 June to Sunday 12 June, 11am–9pm
Date and time
Starts on Thu, 9 Jun 2022 11:00 CEST
Location
Amsterdam-Zuid Parnassusweg 220 1076AV Amsterdam Netherlands
About this event
Sandberg Instituut, Amsterdam proudly presents the work of 78 graduating students from its five main departments (Critical Studies, Design, Dirty Art Department, Fine Arts, and Studio for Immediate Spaces) and two temporary programmes (Disarming Design and F for Fact).
Graduates will be presenting their work to the public between June 9 and 12, 11am–9pm, at various locations in Amsterdam-Zuid, including:
Kunstkapel (Pr. Irenestraat 19) - Design and Disarming Design
De Thomaskerk (Pr. Irenestraat 36) - Fine Arts and Dirty Art Department
The former Courthouse (Parnassusweg 220) - Dirty Art, Fine Arts, F for Fact, Studio for Immediate Spaces
Rialto VU bioscoop (De Boelelaan 1111) - Home Cinema
Butcher's Tears (only on June 10 and 11, Karperweg 45) - Critical Studies
View the documentation of work from Sandberg Instituut Graduation 2021 here, and read the 2021 graduation publication The Sign of the Stars online here. To reserve a copy of the forthcoming 2022 publication, made in collaboration with Our Polite Society, please contact PS [​at​] sandberg.nl.
For updates on our Graduation 2022 programme and other news, be sure to follow us on Instagram and visit our website.
Graduating Students:
Critical Studies
Johanna Ekenhorst
Alec Mateo
Anastasija Kiake
Simone Stergioula
Jasper Westhaus
Abhaya Mistry
Fine Arts
Sarafina van Ast
Atefeh Alaeddin
boyan montero
S*an D. Henry-Smith
Zwaantje Kurpershoek
Balázs Varju Tóth
Agnese Smaldone
Design
Leïth Benkhedda
Insa Deist
Jan Egbers
Lukas Engelhardt
Ladipo Famodu
Tal
Lê Thi Hoài
Yannesh Meijman
Katharina Nejdl
Katharina Sook Wilting
Alix Stria
Sheona Turnbull
Micaela Terk
Dirty Art Department
Ludovic Hadjeras
Noah Cohen
iida—ssi (iida jonsson / ssi simon saarinen)
Ana Lipps
Francesca Miazzi
Ciara O'Kelly
Elisabeth Prehn
Liane Rosenthal
Noémie Tshisumpa
Finn Wagner
Wei Yang
Disarming Design
Lama Aloul
Saja Amro
Julina Vanille Bezold
Rasha Dakkak
Farah Fayyad
Mohamed Gaber
Anna Celda
Ayman Hassan
Siwar Kraitem
Ott Metusala
Naira Nigrelli
Karmel Sabri
Qusai Al Saify
Sarah Saleh
Mohammed Tatour
Jara van Teeffelen
Samira Vogel
F For Fact
Elki Boerdam
Mariana Fernandez Mora
Jonathan Hielkema
Pia Jacques de Dixmude
Anouk van Klaveren
Olya Korsun
Puck Kroon
Bernice Nauta
Furqat Palvan-Zade
Juliana Zepka
Eloïse Alleguié
Studio for Immediate Spaces
Johan Devigo
Pam Virada
Yon Matauko
Natasha Linde Krebs
Luis Lecea Romera
Ella Mathys
Stefan Meyer
Stefania Rigoni
Matteo Viviano
Aleksandra Zawistowska
Emilie Bordes