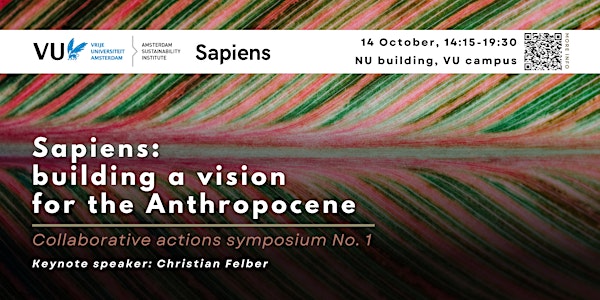 Sapiens: Building a vision for the Anthropocene
Collaborative actions symposium No. 1, designed to inspire a vision for the Anthropocene
When and where
Location
NU building Vrije Universiteit Amsterdam 1111 De Boelelaan 1081 HV Amsterdam Netherlands
About this event
Collaborative actions symposium No. 1: On October 14th Sapiens will launch its first event, designed to inspire a vision for the Anthropocene as well as connect people across disciplines to engage in transformative action.
The growing need to shift away from unsustainable patterns has led to the emergence of transformative science, and highlighted the importance of collaborative networks in building solutions. Sapiens – a new initiative that is part think-tank, workshop space, and idea incubator – provides such an arena for people to come together and share innovations, resources, and connections.
Our first event in the run up to the official opening of Sapiens next year will demonstrate the value of these opportunities, with a panel discussion geared towards building a vision for the Anthropocene, and a booth fair showcasing the many ways to engage in a transformation. The discussion will bring together perspectives of a sustainable economy, food and energy transitions, as well as conservation, development, and justice, in order to construct a whole systems picture for how we might achieve a future that works for people and the planet.
Come join us on the 14th and be inspired to take part in the many ongoing programs that will be offered, or bring your own ideas to build the network you need to get them off the ground. The event will be capped off with a spectacular key-note lecture and performance by Christian Felber, otherwise known as "the dancing economist", and will finish with a borrel complete with drinks and snacks. We look forward to seeing you all there!
This is event is organised by the Amsterdam Sustainability Institute. Sapiens is a joint initiative by VU Amsterdam, Naturalis Biodiversity Center, Inholland University of Applied Sciences, real estate developer EDGE and the RJB Group of Companies. It will be based in the green-terraced Valley building in Zuidas.