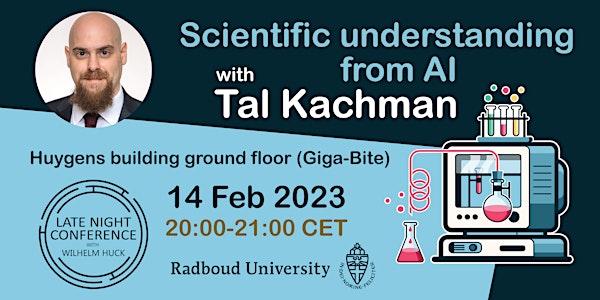 Scientific understanding with Tal Kachman|Late Night Conference WithWH 3X01
Have you ever wondered about the interface of Chemistry & AI ? Get your free ticket now to participate in our LIVE discussion in Giga-Bite!
When and where
Location
Faculty of Science 135 Heyendaalseweg 6525 AJ Nijmegen Netherlands
About this event
Dear LateNighters, prepare! The Late Night Conference with Wilhelm Huck is back, with yet another exciting season! This time, we have decided to mix things up a bit by choosing to combine Chemistry and AI, as the season's theme.
As always, it will be streamed live on our YouTube channel Late Night Conference with WH (don't forget to subscribe!), but this season we have a new location - Huygens building ground floor (Giga-bite)! We are excited to have you in our live audience and encourage participation in the discussion.
Please pay attention - tickets are required only if you are going to attend this event in person, that is, please DON'T purchase one if you only want to watch the stream on YouTube!
Our opening episode features Tal Kachman, an Assistant Professor at Radboud University. Tal's research covers a broad range of complex problems, like Computational Game Theory, and Financial and Quantum Machine Learning. Sounds… complex. Right? Join us on the 14th of February to learn how AI can be used to predict some of the most complex challenges known to humanity!
In attending the LIVE event in Giga-Bite, every attendee agrees to be filmed and/or photographed during the event. This audiovisual material can later be published by the organiser in media promoting the Late Night Conference.