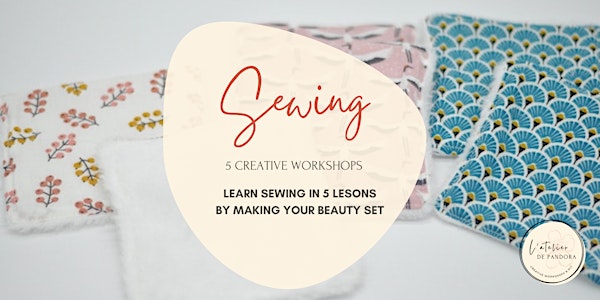 Sewing workshops - bundle 5 lessons - beauty set
Learn how to sew with a sewing machine in 5 lessons, by making your beauty set
Date and time
Thursday, April 6 · 6:30 - 8:30pm CEST
Location
Lauwerecht 55 55 Lauwerecht 3515 GN Utrecht Netherlands
About this event
LEARN HOW TO SEW IN 5 LESSONS 🪡
In the session of 5 workshops you will learn how to use a sewing machine, sew a zipper, follow pattern instructions and create your own beauty set.
Those workshops are aimed to be easy for beginners, for creative and non creative persons. If you are curious about sewing and want to spend a great crafty time, you're at the good place.
No material and no skills needed.
I will explain you step by step how to proceed. The purpose of these workshops will be to begin with sewing and have some fun creating a sustainable beauty set.
➡️ What you will make during the workshops: a cosmetic bag, reusable wipes, a scrunchy and a hand towel.
DETAILS OF THE 5 WORKSHOPS:
Lesson 1: The basics of sewing and sewing machine. You will learn how to use a sewing machine and what are the basics of stitching's with it. You will start sewing by making reusable face wipes. 6th April 2023 from 18:30 to 20:30.
Lesson 2: Using different kind of fabrics and adjusting the sewing machine. You will be creating a scrunchy of your choice. 13th April 2023 from 18:30 to 20:30.
Lesson 3: Creating and assembling a sewing bias. In the session you will learn how to sew correctly a bias, by making a hand towel. 20th April 2023 from 18:30 to 20:30.
Lesson 4: Using a pattern and following instructions. For the 4th lesson I will explain you how patterns works and what you need to know about it, you will start to use your first pattern to make a necessary (beauty bag). 4th May 2023 from 18:30 to 20:30.
Lesson 5: Stitching a zipper and work with lining. Finally in the last session you will continue making your beauty bag from the last session. 11th May 2023 from 18:30 to 20:30.
⭐️ I will provide all what's needed : sewing machine, fabrics and threads. Of course if you want to bring your own material you are very welcome.
☕️ 🍪 To keep you up during the workshop, I will provide some cookies and hot drinks. You can bring your own food if you wish.
If you have any question, please reach me at : hello@latelier-de-pandora.com or via Instagram (@Latelier_de_Pandora) or Whatsapp (+316 14 73 42 00).
Workshops will be in English and/or French.
————————
🎟 Tickets: 250€ for the 5 workshops (06/04 - 13/04 - 20/04 - 04/05 - 11/05).
⚠️ The workshops will take place with a minimum of 4 participants (and a maximum of 6). You will receive a confirmation email about 3 weeks before the first session. If the workshops are canceled you will get a full refund.
If you need to cancel your booking, 50% of the price is refundable before the 16th of March. Then it won't be possible to cancel.