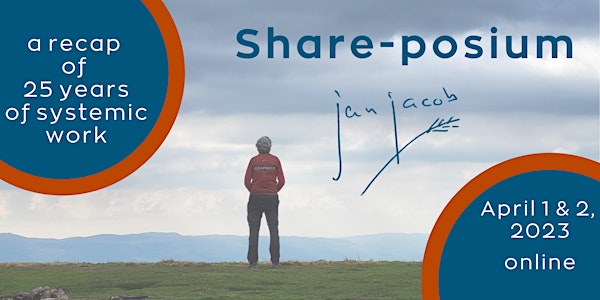 Share-posium: Jan Jacob Stam, 25 years of systemic work ~25 años Sistémico
April 1 &2, 2023 Jan Jacob Stam will share 25 years of experience in Systemic Work in this 'share-posium' ~ El 1 y 2 de abril de 2023
Date and time
Fri, 31 Mar 2023 23:45 - Sun, 2 Apr 2023 08:45 PDT
About this event
1 day 9 hours

Mobile eTicket
Para español: desplácese hacia abajo
'Share-posium': 25 years of Jan Jacob's Systemic Work
Language English, simultaneous translation into Spanish
This two-day online event covers a huge number of insights, developments and understandings Jan Jacob gained from being one of the first fulltime pioneers, after Bert Hellinger of course, in the field of Systemic Work.
Always taken by the evolutionary force, the idea of this 'share-posium ' grabbed him. After having worked in over 30 different countries, written 7 books, designed more than 10 different training programs and countless workshops, ánd organized 11 congresses, this one is the final events organized by him. It's a recap of these 25 years, with of a lot of fundamentals.
Jan Jacob is convinced that knowledge wants to be shared, multiplied and applied. So let yourself be fully nourished and filled during the 9 workshops, each of 1,5 hours, that Jan Jacob will conduct.
You can attend all workshops, and if you're nor able to, no worries: all workshops will be recorded and are available until May, 1.
After this last two-day session of workshops he won't be organizing, nor offering any programs anymore. Nevertheless, he will stay available. For new adventures……. taken by the wind and the evolutionary force.
We really look forward to meeting you there!
When?
Saturday April 1 and Sunday April 2, 2023
Saturday April 1: Opening by Jan Jacob 8.45AM (CET). Workshops from 9.00AM (CET) until 19.30PM (CET)
Sunday April 2: workshops from 9.00AM (CET) until 17.30 (PM, CET). Closure 17.30 - 17.45(CET)
Cost of participation:
Only € 180,- for the whole congress of 2 days, including all workshops and recordings available until May 1.
No worries if you can't join: workshops will be recorded and are available for participants until May 1.
Language
The language will be English and all workshops will be translated simultaneously into Spanish during the workshop.
For whom?
For everybody who is interested in systemic work, in fact, for everyone. Although we have a systemic point of view, you can also attend without too much knowledge of systemic work. Just explore and experience!
Topics (disclaimer: This program is due to changes ;-)
1. Principles of order in organizations.
Jan Jacob started to apply constellations in organizations very early and was forced to face how family systems are different from organizational systems. Systemic work also needed a translation into organizational language.
2. Constellations
We still don't know what constellations are, nor how they work. Over time he developed 25 different types of organizational constellation. For a big part the mini constellations of which Ihe applied maybe fifty different forms, were developed while working. The integration of our curriculum was an interesting process: 'it's never too late to have an integrated curriculum.' In general, he will cover developments in mainly organizational constellations. Ánd a deeper understanding of what the working substances of constellations are.
3. Trauma in Organizations.
A lot was known about personal trauma, very little on organizational trauma. So, he set off for a quest lasting two or three years to understand this phenomenon better ánd what we can do to overcome and prevent organizational trauma. This topic of trauma has also developed over the years, became lighter and better to handle.
4. Transformation
Unraveling the container of 'change', we come to a deeper understanding of what a system needs. Development; change; transition; reset; transformation. In a very early stage, Jan Jacob developed a notion of the stage or phase of a client or client system and what was 'needed' there. The quest of what transformation really means also took him a couple of years and now has evolved in the program 'Movements of Transformation'
5. Interview; Q&A
Maaike van der Heiden will interview Jan Jacob. In this workshop there's also space for Q&A from participants. Most likely his relationship with Bert Hellinger and other early constellators will be part of this conversations. Including all the mistakes he made, the tensions and fights in the field of systemic work. A little bit: 'behind the scenes.'
6. Interventions
Core part of systemic work are interventions. What are they actually? In this workshop he will cover a bit the history of systemic interventions. A breakthrough for him was the differentiation in 1st-, 2nd- and 3rd order interventions. What is our source for interventions? What comes through the left brain, the right brain, the field…… The art of interventions will stay a mystery. Ánd is worth it to understand better. Last couple of years he also works often with what he calls: 'Direct working with the pattern,' where we are beyond the distinction of family-, organizational- or societal issues and constellations.
7. TeamConnect
This workshop is about the TeamConnect surveys and other tools. In the beginning constellations were kind of 'holy'. Unthinkable to cut them into pieces (what was something he did in the trainings) or to make products or tools out of it. It was Anton de Kroon who, with two colleagues, took the first initiative. To awaken systemic awareness and to increase systemic based interventions, we don't need constellations. To separate constellations from systemic principles was a political act, on which tools like the TeamConnect surveys are based. In this workshop all participants can complete a systemic survey in order to experience what systemic awakening might bring.
8. Societal Issues
These are one of the scariest forms of constellations. Beyond Jan Jacob's resistance to this topic also here he was sent on a quest to explore constellations on societal issues. Pfiew! How to prevent grandiosity. How to prevent to create illusions. How to prevent that patterns get more rigid by using constellations……many challenges! So yes, we will do a constellation on a societal issue in this workshop.
9. The future of systemic work'
'Potential' was another topic he chewed on for a couple of years. This raises immediately also the question: what's the potential of systemic work? After having worked in over 30 different countries, written 7 books, designed 10 or more different training programs, and organized 11 congresses, you might expect that he will have thoughts about this topic. Does he? Let's wait and see………
Warm regards
Dees van de Hoef and Lotte Kouprie.
Resumen Share-posium: 25 años del Trabajo Sistémico de Jan Jacob Stam
Idioma inglés con traducción simultánea al español
Este evento de dos días, en línea, cubre una gran cantidad de percepciones, desarrollos y comprensiones que Jan Jacob adquirió al ser uno de los primeros pioneros a tiempo completo, después de Bert Hellinger, por supuesto, en el campo del Trabajo Sistémico.
Siempre llevado por la fuerza evolutiva, la idea de este Share-posium le atrapó. Después de haber trabajado en más de 30 países diferentes, escrito 7 libros, diseñado más de 10 programas de formación diferentes e innumerables talleres, y organizado 11 congresos, éste es el último evento organizado por él. Es una recapitulación de estos 25 años, con muchos fundamentos.
Jan Jacob está convencido de que el conocimiento quiere ser compartido, multiplicado y aplicado. Así que déjate nutrir y llenar por completo durante los 9 talleres, cada uno de 1,5 horas, que dirigirá Jan Jacob.
Puedes asistir a todos los talleres, y si no puedes, no te preocupes: todos los talleres serán grabados y estarán disponibles 1 mes, hasta el 1 de mayo.
Después de esta última sesión de dos días de talleres, ya no organizará ni ofrecerá ningún programa. Sin embargo, seguirá disponible para nuevas aventuras……. llevado por el viento y la fuerza evolutiva.
¡Estamos deseando verte allí!
¿Cuándo?
Sábado 1 y domingo 2 de abril de 2023
Sábado 1 de abril: Inauguración a cargo de Jan Jacob 8:45 (CET). Talleres desde las 9.00 (CET) hasta las 19.30 (CET)
Domingo 2 de abril: Talleres desde las 9.00 h (CET) hasta las 17.30 hPM (CET). Cierre 17.30 - 17.45 (CET)
Costo de participación:
Solo € 180,- para todo el congreso de 2 días, incluidos todos los talleres y grabaciones hasta el 1 de mayo.
~ Para los participantes de habla hispana de América Latina, ofrecemos dos boletos por el precio de uno. Cuando compre un boleto, simplemente reenvíe el correo electrónico de confirmación de Eventbrite con el nombre, la dirección de correo electrónico y el país del otro participante a info@janjacobstam.nl ~
No te preocupes si no puedes unirte en directo: Los talleres se grabarán y estarán disponibles para los participantes hasta el 1 de mayo.
Idioma
Se impartirá el inglés y todos los talleres serán traducidos simultáneamente al español durante el taller.
¿Para quién?
Para todos los que estén interesados en el trabajo sistémico, de hecho, para todo el mundo. Aunque tenemos un punto de vista sistémico, también puedes asistir sin demasiado conocimiento del trabajo sistémico. ¡Solo explora y experimenta!
Temas (descargo de responsabilidad: este programa puede estar sujeto a cambios ;-)
1. Principios de orden en las organizaciones.
Jan Jacob comenzó a aplicar constelaciones en las organizaciones desde muy temprano y se vio obligado a enfrentarse a cómo los sistemas familiares son diferentes de los sistemas organizacionales. El trabajo sistémico también necesitaba una traducción al lenguaje organizacional.
2. Constelaciones
Aún no sabemos qué son las constelaciones, ni cómo funcionan. Con el tiempo desarrolló 25 tipos diferentes de constelaciones organizacionales. En gran parte, las mini constelaciones a las que aplicó de unas cincuenta formas diferentes, se desarrollaron mientras trabajaba. La integración de nuestro plan de estudios fue un proceso interesante: "nunca es demasiado tarde para tener un plan de estudios integrado". En general, cubrirá los desarrollos principalmente en constelaciones organizacionales. Y una comprensión más profunda de cuáles son las sustancias de trabajo de las constelaciones.
3. Trauma en las Organizaciones.
Se sabía mucho sobre el trauma personal, pero muy poco sobre el trauma organizacional. Así que emprendió una búsqueda de dos o tres años para comprender mejor este fenómeno y qué podemos hacer para superar y prevenir el trauma organizacional. Este tema del trauma también ha evolucionado con los años, se ha hecho más ligero y manejable.
4. Transformación
Al desentrañar el contenedor del "cambio", llegamos a una comprensión más profunda de lo que necesita un sistema. Desarrollo; cambio; transición; reiniciar; transformación. En una etapa muy temprana, Jan Jacob desarrolló una noción de la etapa o fase de un cliente o sistema del cliente y lo que se "necesitaba" allí. La búsqueda de lo que realmente significa transformación también le llevó un par de años y ahora ha evolucionado en el programa "Movimientos de transformación".
5. Entrevista, Preguntas y Respuestas
Maaike van der Heiden entrevistará a Jan Jacob. En este taller también habrá espacio para preguntas y respuestas de los participantes. Lo más probable es que su relación con Bert Hellinger y otros de los primeros consteladores forme parte de estas conversaciones. Incluyendo todos los errores que cometió, las tensiones y peleas en el campo del trabajo sistémico. Un poco 'entre bastidores'.
6. Intervenciones
La parte central del trabajo sistémico son las intervenciones. ¿Qué son en realidad? En este taller cubrirá un poco la historia de las intervenciones sistémicas. Un gran avance para él fue la diferenciación en intervenciones de primer, segundo y tercer orden. ¿Cuál es nuestra fuente de intervenciones? Lo que pasa por el cerebro izquierdo, el cerebro derecho, el campo... El arte de las intervenciones seguirá siendo un misterio. Y vale la pena entenderlo mejor. El último par de años también trabaja a menudo con lo que él llama: 'Trabajo Directo con el Patrón', donde estamos más allá de la distinción de constelaciones familiares, organizacionales o de cuestiones sociales.
7. TeamConnect
Este taller trata sobre las encuestas TeamConnect y otras herramientas. Al principio, las constelaciones eran 'sagradas'. Impensable cortarlos en pedazos (que era lo que hacía en las formaciones) o hacer productos o herramientas de ellas. Fue Anton de Kroon quien, con dos colegas, tomó la primera iniciativa. Para despertar la conciencia sistémica y aumentar las intervenciones sistémicas, no necesitamos las constelaciones. El separar las constelaciones de los principios sistémicos fue un acto político, en el que las herramientas como las encuestas TeamConnect, están basadas. En este taller, todos los participantes pueden completar una encuesta sistémica para experimentar lo que podría traer el despertar sistémico.
8. Cuestiones Sociales
Estas son una de las formas más aterradoras de constelaciones. Más allá de la resistencia de Jan Jacob a este tema, también aquí fue enviado en una búsqueda para explorar constelaciones sobre temas sociales. ¡Puf! Cómo prevenir la grandiosidad. Cómo prevenir para crear ilusiones. Cómo evitar que los patrones se vuelvan más rígidos usando constelaciones… ¡muchos desafíos! Así que sí, haremos una constelación sobre un cuestiones social en este taller.
9. El futuro del trabajo sistémico
'Potencial' fue otro tema que masticó durante un par de años. Esto plantea inmediatamente también la pregunta: ¿cuál es el potencial del trabajo sistémico?
Después de haber trabajado en más de 30 países diferentes, escrito 7 libros, diseñado 10 o más programas de capacitación diferentes y organizado 11 congresos, es de esperar que tenga pensamientos sobre este tema. ¿Los tendrá? Vamos a esperar y ver………
Contacto: info@janjacobstam.nl
Un cordial saludo,
Dees van de Hoef y Lotte Kouprie