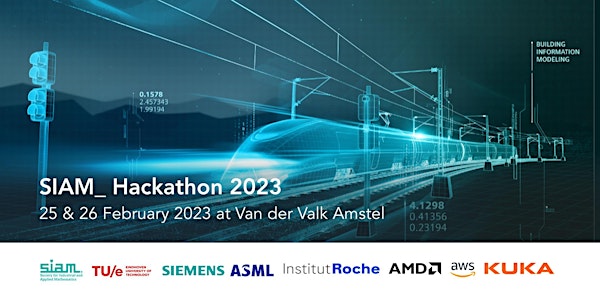 SIAM_ Hackathon 2023
25 & 26 February 2023
When and where
Location
Van der Valk Hotel Amsterdam-Amstel 20 Joan Muyskenweg 1096 CJ Amsterdam Netherlands
About this event
Today's industrial challenges require emerging talents with a background in computational science and engineering who want to think about cutting-edge solutions to transform industrial solutions with applied mathematics.
On Saturday 25 February 2023 (starting at 09:30 AM) and Sunday 26 February 2023 (till 04:00 PM), the SIAM Hackathon will take place at Van der Valk Amstel (Joan Muyskenweg 20, 1096 CJ Amsterdam). This free Hackathon is organized along the SIAM CSE23 conference, but registration to the conference is not a prerequisite.
If you are enthusiastic about applied mathematics, then we're looking for you! We will bring together a diverse group of people, so that we can come up with great ideas together. On the first day of the hackathon there is plenty of time to make teams.
Apply to participate via the 'Register / reserve a spot' button at the top of this page. Due to limited space and a lot of interest, a pre-selection will be done by the partners of this hackathon. All applications will be reviewed and we will get back to you in December confirming if you've been selected to participate.
Why this hackathon?
During 2 days you and your team will deep dive in one of the 6 challenges provided by one of the sponsors of the event.
Challenges include:
Reducing energy consumption of buildings by leveraging digital models as well as online and historical data (Siemens)
Optimization of intralogistics in factories of the future (KUKA)
The main focus from this hackathon is to bring computation and mathematics to the industry. Combining these often separated worlds will guarantee inspiring innovative solutions.
What is a hackathon?
A hackathon is a competition where teams work together in a pressure cooker environment to build and design solutions for a challenge in a very limited time. This hackathon will be 36 hours. At the end of the hackathon, teams present their solutions to the jury and the best solutions will win a prize.
Why participating?
You will not only experience the excitement and pressure of a hackathon, but you will also meet awesome new people with different backgrounds and witness what you and your team can build in two days. There are mentors and experts to guide you along the way .
Plus, great news when it comes to cooking. You don't have to think about food and beverages. We know how important this is and we do take care of this. Healthy snacks, fabulous meals and energizing bars are coming your way.
Prize pool
The prizes are worth taking part of the SIAM Hackathon, though we hope you come for the challenge. More about this we will announce soon. Participation is free of charge, food and drinks are on us.
Who are we looking for?
We're aiming for around 150 emerging talents (Students, PhD Students, PostDocs) in the field of computational science and engineering who combine deep algorithmic knowledge, strong implementation skills and a visionary mindset. Participants are coming from all over the world!
Program Hackathon
What to expect on 25 February?
On Saturday 25 February you'll meet your hackathon team at the Van der Valk Amstel hotel, get introduced to the case question and dive into the problem behind the problem. Besides that, you'll think about possible solutions for the provided challenge. During this day you'll get to know each other a bit better and we'll introduce you to the tools we use during the hackathon. Later in the day we start fully immersing into the challenges and get to work. We promise you no dull moments, with great mentors to help you out.
What to expect on 26 February ?
Sunday we continue with the heavy lifting of the challenges and we will challenge you to come up with great solutions.
The pitches will start later in the afternoon, when your team gets the opportunity to sell your idea to the jury. After your team has given their pitch, jury members can ask some additional questions. At the end of the finals, we will announce the winning teams.
Last but not least, we have some amazing drinks and bites to kick-off the weekend.
Questions?
In case you have any questions about this event, don't hesitate to reach out. Send an email to: events@brize.com.