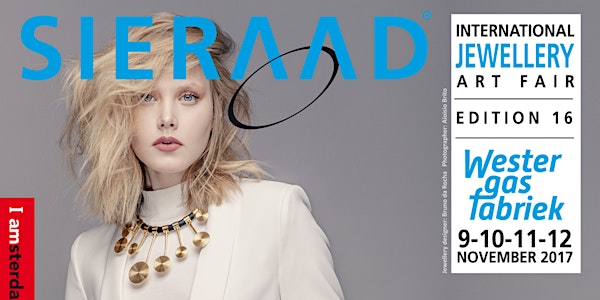 SIERAAD International Jewellery Art Fair
When and where
Location
Westergasfabriek B.V. Gashouder Klönneplein 1 1014 DD Amsterdam Netherlands
Description
WAAR KUNST DRAAGBAAR WORDT.
Sieraden voor alle budgetten.
SIERAAD International Jewellery Art Fair, het eerste en enige specifiek op sieraadvormgeving en sieraadkunst gerichte presentatieplatform voor de professioneel opgeleide sieraadkunstenaar. Met een zeer internationaal deelnemersaanbod waardoor de meest veelzijdige en verrassende vormen van sieraadkunst zijn te zien en te koop zijn. De 16e editie van SIERAAD ART FAIR, 9 t/m 12 November 2017.
SAF is het enige platform in Nederland waar professionele hedendaagse sieraadvormgevers uit binnen- en buitenland hun handgemaakte sieraden direct en zelf aan de man brengen. SAF wordt ook deze editie weer opgeluisterd door speciale events en spraakmakende presentaties.
Lokatie: Gashouder Westergasfabriek, Amsterdam; Entree: is € 15.- per persoon per dag voor 2 dagen € 20,00 p.p. 65+ers en CJP-houders betalen € 12,50, kinderen tot 12 jaar zijn (onder begeleiding) gratis. • Kaarten:kunnen worden gekocht bij de kassa of worden besteld via www.sieraadartfair.nl • Horeca: is in handen van de Keep on Catering • Betaling: op de beurs kan worden gekocht en betaald door middel van diverse betalingssystemen. • Parkeren kan in de nabij gelegen Q-Park Westergasfabriek of in de directe omgeving. Voor Invaliden zijn er parkeerplaatsen aanwezig op het terrein.
Donderdag 9 november
• 14.00 uur: SIERAAD Art Fair open voor het publiek.
• 17.00 uur: opening.

openingstijden van SIERAAD Art Fair:
• Donderdag 9 november: 14.00 - 21.00 uur • Vrijdag 10 zaterdag 11 en zondag 12 november van 11.00 - 18.00
www.sieraadartfair.com.

SMALL OBJECTS OF GREAT ART.
The 16th edition of SIERAAD Art Fair (SAF) will be the most international one. SAF is the only platform in the Netherlands where professional contemporary jewellery designers from home and abroad sell their hand made work directly and in person. To add lustre to this edition of SAF there will be some special events and striking presentations. The 16th edition of SIERAAD art Fair, 9-12 November 2017.
Location: Gashouder, Westergasfabriek, Amsterdam admission; is € 15 - per person per day for 2 days € 20.00 pp, 65 + and CJP/students pay € 12.50 , children under the age of 12 ( accompanied) free • tickets can be purchased at the box office or ordered www.sieraadartfair.nl • catering: in the hands of Keep on Catering • at the show can be bought and paid for through various payment systems. • You can park in the nearby parking Q-Park Westergasfabriek or in the immediate surroundings.
Thursday, November 9
• 14.00: SIERAAD Art Fair open to the public • 17.00 Official opening.
opening hours SIERAAD Art Fair:
• Thursday, November 9 : 14:00 to 21:00 hrs.• Friday 10 Saturday 11 and Sunday 12 November, from 11:00 to 18:00 hrs.