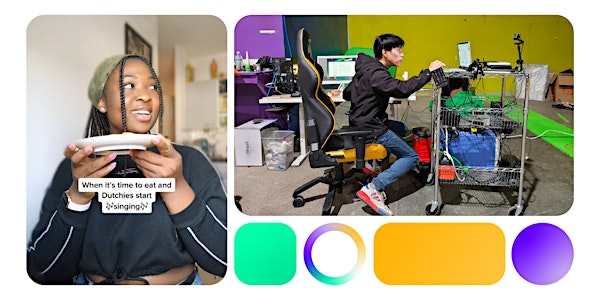 Significant Content | Thursday Night Live!
Popular creators @TheSushiDragon and @driplist talk about the artistry behind their work in the first iteration of Significant Content
When and where
Location
Het Nieuwe Instituut 25 Museumpark 3015 CB Rotterdam Netherlands
Refund Policy
Contact the organizer to request a refund.
Eventbrite's fee is nonrefundable.
About this event
How does the content on your social media feed come into existence? Why are YouTube video titles often half capitalised? Will your TikTok video become more popular if you use a ring light? While content creators on social media are not usually equated with film directors, musicians or designers, they nevertheless make an important contribution to our daily media consumption and (digital) culture. In the Significant Content event series, popular creators from various social media platforms talk about the artistry behind their work. The two speakers of this evening are Stefan Li (@TheSushiDragon) and Somi Lynda (@driplist).
This new series looks at how social media creators' content can make a difference within the framework of a given platform, revealing the medium-specific characteristics of that platform. These creators often deploy clever tactics that ensure their content works well within the medium they are using. By outlining the content and methods of such creators, the series helps to unravel how social media platforms work beneath the surface.
Speakers
Stefan Li, @TheSushiDragon, is active on Twitch. His streams look like video performances in which he is constantly flipping between different cameras, applying video and sound effects at an incredibly high pace and all in real time using a custom suit full of buttons and toggles. In his own words he is "exploiting technology to inject realtime imaginative content."
Somi Lynda, @driplist, moved from Nigeria to the Netherlands a couple of years ago. She uses surprising situations she found herself in, in her new country of residence to make TikTok videos. Using the platform's formats and tools she shows Dutch habits and aspects of the culture natives might not even realize they participate in.
Significant Content
Significant Content was initiated by Sjef van Beers and Florian van Zandwijk. The two pilot evenings, of which this is the first, are made possible by the Creative Industries Fund NL.
As of 25 September 2021, Het Nieuwe Instituut follows the Museum Protocol, the rules of conduct for safe and responsible museum visits drawn up by the Museum Association on the basis of the RIVM guidelines. Under the new guidelines, we are required to check the corona pass of all visitors (aged 13 and above) attending all events (including Thursday Night Live! events). For an overview of all guidelines at Het Nieuwe Instituut, visit our website.