About this Event
When?
Tuesday, 29th of October 2019, from 10:30 - 17:30
Where?
BioPartner Center
J.H. Oortweg 21
2333 CH Leiden, Netherlands
What?
Conference: Single-cell Sequencing
The conference is organised by BISC Global and Single Cell Discoveries, and will feature a diverse array of scientific speakers who have incorporated single-cell sequencing into their research.
Program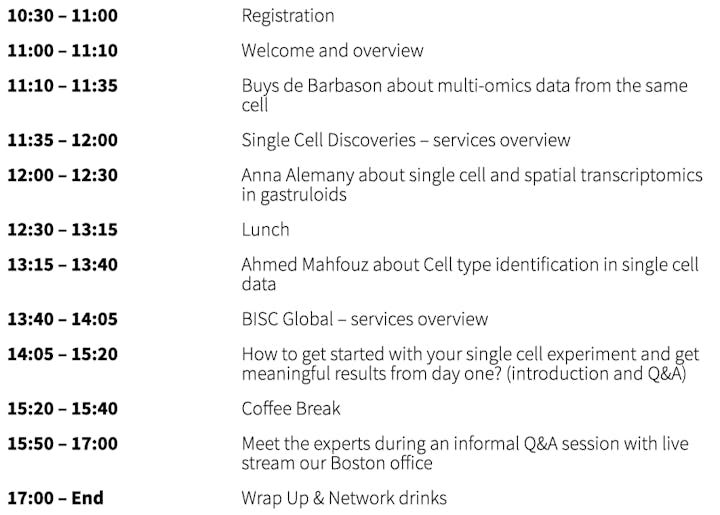 Why attend?
If you want to learn more about the latest scientific developments in the single-cell sequencing field, or if you are considering single-cell sequencing for your own research, this is the event for you.
We will show the newest applications of single cell sequencing with presentations from different companies and academia.
In addition to the presentations, we have a breakout session where we go in-depth into single-cell sequencing. From biological experimental design to downstream analysis! Are there questions you would like to have discussed, please fill in your question on our website: www.biscglobal.com/conference
Already working with single-cell sequencing? Come by to exchange tips & tricks with other researchers.
Register now!
The event is free. To reserve your spot, order your ticket now.
About us
BISC Global was founded by an experienced team of bioinformaticians, statisticians and business leaders, with the goal of helping its customers to overcome their challenges in data-analysis, pipeline automation and visualization.
Single Cell Discoveries provides single-cell sequencing as a service to customers in research, biotech and pharma. From project planning to sequencing to data analysis, we help you increase the resolution of your research.