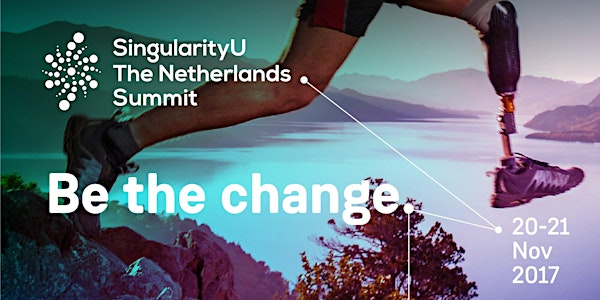 SingularityU The Netherlands Summit 2017
When and where
Location
Philharmonie Lange Begijnestraat 11 2011 HH Haarlem Netherlands
Description
The 2-day SingularityU The Netherlands Summit 2017 will take place on 20 - 21 November in the Philharmonie in Haarlem. Bringing the world's leading speakers and experts on exponentially accelerating technologies together with inspirators who are changing and shaping the world in a positive way, providing us with the mindset, knowledge and tools we need in an exponentially changing world.
Be The Change!
In a world of accelerating technologies, we - as human beings - have an essential role to play. Making sure that these technologies are used in a positive way, solving our grandest challenges in the process. We not only have the ability, but also the duty to strive for a world of abundance. We're all in this together. And only by actively participating, while discussing the ethics, the policies and the world we want to live in, we will be able to shape a brighter future for us and our children.
We believe you can make that difference. We believe you can be the change that this world so desperately needs.
We invite you for the SingularityU The Netherlands Summit 2017, where we will inspire you with stories of people that already embody this change, leading the way forward into shaping a brighter future. They will share their lessons learned and provide you with the mindset and tools needed to positively impact your life, your business and our society as a whole.
You should attend if you are:
A corporate or government executive leading transformation or disruption in your organization.

An innovator or entrepreneur using accelerating technologies, aiming to solve a huge challenge.

A non-profit working to solve the global grand challenges, wanting to positively impact the lives of many people.

A teacher preparing and shaping the next generation for a future that looks nothing like the past.

A student looking to explore the abundance of possibilities that lie ahead of you.
Speakers that have been announced:
We will host interactive expert sessions with, amongst others:
We will be introducing many more speakers, so stay tuned through the Summit website and our social media accounts!
Every ticket includes:
Entrance to a 2-day Summit, delicious catering, tech demos, break-out and side sessions, opportunities to meet the speakers, exclusive access to the Summit app and much more.
Are you a student? Click here to get a student ticket.
Are you a non-profit organisation or a start-up younger than 3 years? Click here to get your special ticket.