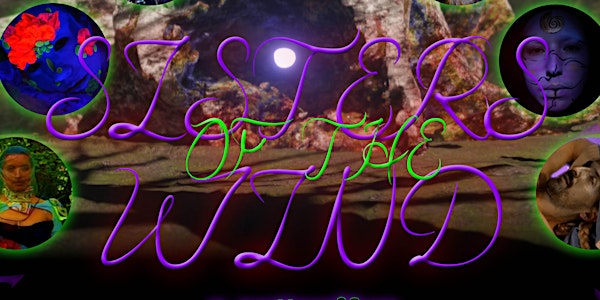 Sisters of The Wind
A collective world-building journey to revive our earthly interconnections. A work by Juliette Lizotte aka jujulove
About this event
Sisters of the Wind is the fruit of an artistic research on witches, ecofeminism, and science-fiction carried out between 2018 and 2021. It is a story woven through seven videos to be experienced in two distinct ways: as an online world-building workshop and role play session* or as an interactive audiovisual performance**.
Sisters… ˜o˚ ''.)* ' ''.'··º ° '' ' ' ·' '0' .º•.· ·.˜ *,',˚˚ ˚oº°•˜ The wind is returning, as it always does. Sometimes it blows so hard that it carries artifacts away from the cities it tore apart, seeds from far away places, trees that didn't have enough time to grow stronger... That's why you always seek a protected area to settle in, relocating as the wind comes and goes in waves. You are witches. You pay attention to the world and try to make sense of this life together through the phases of the moon from maiden to mother to crone. In your community, the feminine spirit dominates, and all gender expressions are celebrated. When your precarious life is threatened by an unsettling prophecy announcing a deadly wind that will prepare the earth for a new cycle, will you go on a journey to find the source of this wind? What will you discover on the way? How will this transform you, your sisters, and the earth forever?
Let's embark together on this wonderful adventure!
In the current context of the global pandemic, it is important to find new and safe ways of being together and reinforce our bonds. This experience was imagined as a physical one, nevertheless it feels as relevant to adapt it for an online format to reinvent ways to feel close to each other and to the world around us.
xºx°
jujulove
*Online world-building workshop and role play session
(3 hours, registration required) on jitsi and etherpad
You are warmly invited into my world to make it yours, and expand it together! Dive into the wonderful world of Sisters of the Wind, get to embody one of the witches that inhabits it…
no prior knowledge or experience of role play required.
(4-12 sisters)