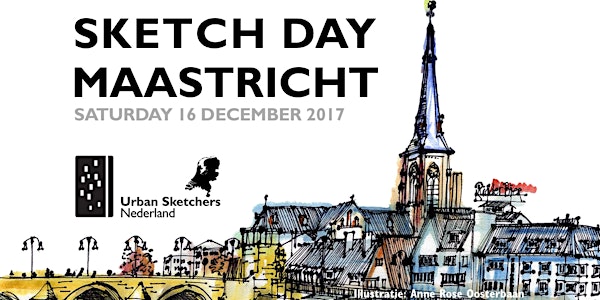 Sketch Day Maastricht by Urban Sketchers Netherlands
When and where
Location
Talentino Mestreech Grote Gracht 74 6211 SZ Maastricht Netherlands
Description
(For English see below)
Op zaterdag 16 december zal Urban Sketchers Netherlands haar Sketch Day in Maastricht weer organiseren. Bekijk de aftermovie van vorig jaar: https://youtu.be/NXijP3-Z_BY

We werken aan:
Een binnenlocatie voor de verzamelmomenten

Een diner na afloop van de Sketch Day op zaterdag

A pub drink en draw voor degenen die reeds op vrijdag arriveren.
Waarom is een ticket nodig voor dit evenement?
Onze schetsdagen zijn over het algemeen goed bezocht. Om organisatorische redenen beperken we daarom het aantal deelnemers met een maximum.
Let op:
-Workshops zijn volgeboekt
-Indien je nog deel wilt nemen aan het diner, stuur dan een e-mail naar ruud@urbansketchers.nl (vóór woensdag 13 december).
English
On Saturday 16 December Urban Sketchers Netherlands will organise a Sketch Day in Maastricht again. Watch last year's aftermovie: https://youtu.be/NXijP3-Z_BY
An indoor location for the group gatherings

A diner at the end of the Sketch Day on Saturday

A pub drink and draw for those who arrive on Friday already.
Why do I need a ticket for this event?
Usually our sketch days have a big number of visitors. For organisational reasons we need to limit the number of participants to a maximum.
Attention
- Workshops are fully booked
- If you would like to attend diner, please send an email to ruud@urbansketchers.nl (before Wednesday 13 December).