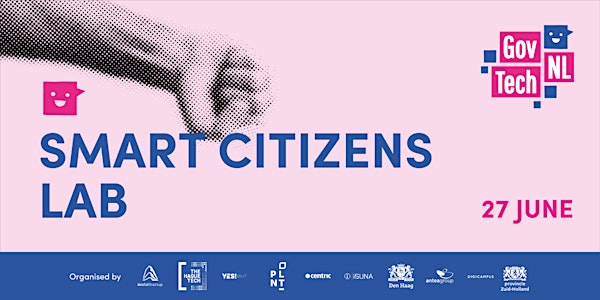 Smart Citizens Lab
Engaging lab dedicated to digital transformation, resilience and citizen science with multiple speakers in the field.
Date and time
Tuesday, June 27 · 4 - 6pm CEST
Location
The Hague Tech 35 Wilhelmina van Pruisenweg 2595 AN Den Haag Netherlands
About this event
In a world where technology is rapidly transforming our urban landscapes, it is essential to recognise and celebrate the individuals who are at the forefront of this digital revolution. The Smart Citizens Lab is a platform for those passionate about digital innovation and city building to come together, share ideas, and inspire one another.
This interactive session will feature a lineup of esteemed speakers who have made significant contributions to the field of digital innovation in urban environments. They will share their experiences, insights, and success stories, offering valuable perspectives on how citizens can actively participate in shaping the future of their cities through technology.
Attendees will have the opportunity to engage in thought-provoking discussions, ask questions, and network with like-minded individuals who share a common vision of creating smarter, more sustainable cities. The event will provide a unique platform for knowledge sharing, collaboration, and fostering innovative ideas that can drive positive change in our urban landscapes.
Key Highlights:
Inspiring speakers in the field of digital innovation and city building
Panel discussions with industry leaders, urban planners, and technology enthusiasts
Interactive workshops to explore emerging technologies and their application in urban development
Networking sessions to connect with fellow smart citizens and professionals in the industry
Q&A sessions to engage with the speakers and delve deeper into the topics discussed
Speakers
Tayra Algera is a Policy Officer Digital Economy at Provincie Zuid-Holland and has been working at the province for nearly three years. As a Policy Officer for the Digital Economy, she assesses the effects of digitalisation on South Holland's economy. South Holland is recognised as one of the most pioneering regions in the Netherlands. However, she acknowledges that continuous innovation is vital to sustain and enhance this standing. The province of South Holland is actively promoting the digital transition, aiming to provide inclusive opportunities for all residents, businesses, and regions to engage in this process.
Hidde Kamst is an Advisor Digital Innovation & Smart City at Gemeente Den Haag. Having a background in philosophy of technology, Hidde has dedicated his recent years to studying and working on societal aspects related to smart cities. Currently, he serves as an advisor within The Hague's Smart City team, focusing on matters of participation, ethics, and the relationship between nature and the environment.
Whether you are an urban planner, a tech enthusiast, an entrepreneur, or simply an engaged citizen passionate about building better cities, this event is for you. Join us for an enriching day of learning, collaboration, and inspiration as we collectively work towards a brighter digital future for our cities.
Don't miss out on this opportunity to be part of the movement that empowers smart citizens to shape the cities of tomorrow. Reserve your spot now and let's embark on this exciting journey together!
Note: Please stay tuned for updates regarding the speakers and a moderator.
About the organizer
GovTech NL is a voice for us all. We believe that technology provides all opportunities for our society to build bridges and empower the civic government.
GovTech NL is founded by YES!Delft, DigiCampus, PLNT, WorldStartup and The Hague Tech. A group full of expertises on public innovation, tech, impact & entrepreneurship. The community is connected with international GovTech professionals like Public, Creative Network and CivTech.scot