About this Event
HeartFire.nl presents
Grammy nominated Snatam Kaur will return to The Netherlands with her PEACE THROUGH SACRED CHANT WorldTour 2020. She will touch many hearts & nourish our souls with her divine voice and radiant spirit. Snatam Kaur will be accompanied by the amazing musicians Grecco Buratto, Ram Dass Khalsa & Sukhmani Rayat on tabla.
"So excited that we will be touring in Europe again! If you have an opportunity to come and join us at one of our concerts on this tour – they are concerts in the traditional sense of music and singing – however something deeper is happening. There is an opportunity for us to connect with Light and to Heal. At times we are in silence, at times we are chanting at the top of our lungs. Perhaps most importantly is that we have the opportunity to collectively pray, for healing of each heart and for our world. Now more than ever, it is important for us to hear our collective voice in songs of praise to the One. So please join us, and join each other in the practice of sacred chant."
Love, Snatam Kaur
Practical Information
Snatam Kaur in Concert :: Peace Through Sacred Chant WorldTour 2020
Date: March 18th, 2020
Venue: Theater Amsterdam
Time: 19:30 - 22:00 (doors open 18:30)
Tickets: heartfire.nl
Tickets includes 2,- euro service fee and bank costs
The Concert is since January 8th Fully SOLD OUT!
Snatam Kaur will also give a concert on April 18th in Brussels, which is not too far... Herewith all the info: https://www.soulhappenings.be/snatam-kaur-peace-through-sacred-ch
Magenta Ticket: 82 euro (first 6 rows)
Blue Ticket: 72 euro
Green Ticket: 62 euro
Yellow Ticket: 52 euro
Orange Ticket: 42 euro
Red Ticket: 32 euro
Reductions: Children under 3 years (no chair): free | Children up to 12 years: 17 euro | Children between 12-18 years: 50% reduction (excluding 2,- service/bank costs)
The reduction for children (17 euro or 50%) is not valid on Magenta tickets. For our Belgium friends - Snatam will also be giving a concert in Brussels on April 19th 2020.
Snatam's concert tours bring her joyous, uplifting music to audiences everywhere as she performs compositions from her new album Beloved and much-beloved songs from her rich catalog of classic world devotional CDs. Timeless Snatam Kaur recordings such as Prem, Grace, Anand, Liberation's Door and Light of the Naam, have brought inspiration and a deep sense of peace to listeners worldwide with their captivating blend of traditional sacred mantras and expansive musical settings blending Eastern and Western influences. But the best way to experience the music, warmth and wisdom of Snatam Kaur is live in concert.
"The concert is an opportunity for people to be awakened to the power of mantra," she says; "to fall in love with mantras and be healed by them. With these concerts I hope to connect people with these mantras so that they get a sense of their own intrinsic light and love. I know for myself that chanting together in these settings is super healing and super powerful for relieving stress, tension and that feeling of being overwhelmed that I think is pretty common for in this day and age. It's a way for people to come and find that sense of peace again."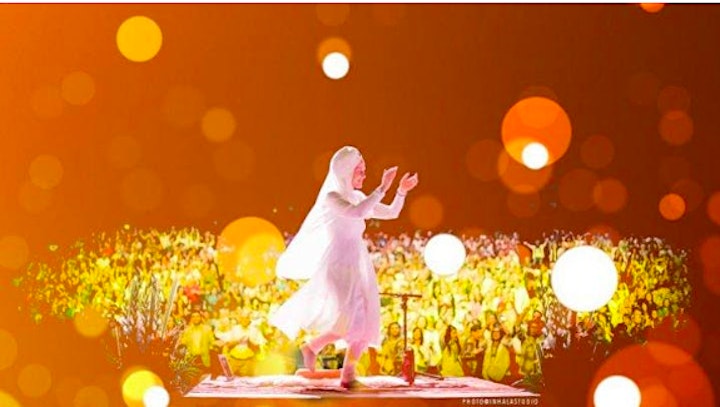 Performers
Date and Time
Location
Refund Policy