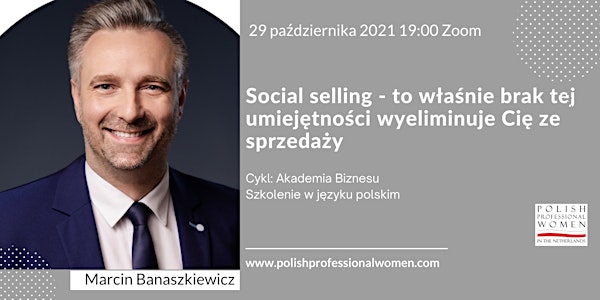 Social Selling
Social selling – to właśnie brak tej umiejętności wyeliminuje Cię ze sprzedaży
Refund Policy
Contact the organizer to request a refund.
Eventbrite's fee is nonrefundable.
About this event
Zastanawiasz się jak odbierają Cię potencjalni klienci czy partnerzy analizujący Twój profil na LinkedIn?
Oferujesz ciekawe produkty i/lub usługi ale nie wiesz jak je opisać tak, by czytające o nich osoby zapragnęły je posiadać?
Nie wiesz jak mierzyć efekty swoich działań komunikacyjnych w sieci?
Podczas spotkania z Marcinem Banaszkiewiczem Trenerem LinkedIn, dowiesz się jak odpowiednio eksponować swoją reputację w przestrzeni publicznej przy wykorzystaniu LinkedIn.
Marcin podzieli się wiedzą o tym jak szybko i skutecznie zrealizować swoje cele biznesowe, dzięki komunikacji "jeden do wielu".
Podczas spotkania dowiesz się także:
• czym jest Marka Personalna i jak należy ją rozumieć
• od czego zacząć skuteczne budowanie Marki Personalnej
• czym właściwie jest "mój profil"
• jak przygotować własną strategię komunikacji
• ile powinniśmy mieć "person"
• czym są "priorytety tematyczne"
• jak pisać, aby chcieli czytać i kupować
Zarezerwuj swój bilet dzisiaj
Program spotkania:
19:00 – 19:10 – otwarcie spotkania, zdjęcie grupowe
19:10 – 20:10 – główna część spotkania
20:10 – 21:00 – networking
Spotkanie odbędzie się w języku polskim na platformie ZOOM. Spotkanie jest otwarte dla członkiń i gości Stowarzyszenia.
Rezerwując bilet na spotkanie organizowane przez Polish Professional Women in the Netherlands, zgadasz się z naszą Polityką Prywatności.
Spotkanie poprowadzi Marcin Banaszkiewicz, Trener LinkedIn 🇵🇱
Marcin jest autorem jedynego w Polsce szkolenia Strategia Marki Personalnej. Szkolenie oparte jest o algorytm ludzkiego oka, a nie algorytm LinkedIn, gdyż dla ludzkiego oka algorytmy LinkedIn nie mają znaczenia.
Marcin tworzy i wdraża strategie Social Selling i programy Employee Advocacy w największych firmach na świecie i najmniejszych firmach w Polsce. Jest twórcą Społeczności H2H ❤️ POLSKA, wykładowcą akademickim z zakresu Social Mediów 🎓 i właścicielem firmy mylogo.
Zarezerwuj swój bilet dzisiaj
Zapraszamy!