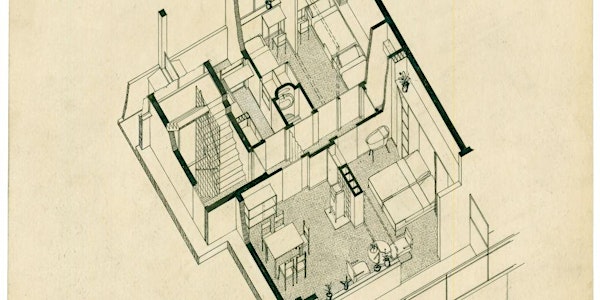 Social Talk: The Minimum Dwelling | Thursday Night Live!
Join us in conversation with Golnar Abbasi, Arvand Pourabbasi and Giovanna Borasi on the concept of the 'minimum dwelling'.
When and where
Location
Het Nieuwe Instituut 25 Museumpark 3015 CB Rotterdam Netherlands
About this event
This event is free. We are asking attendees to consider supporting upcoming national and local housing protests.
--
In the first event in the Social Talk series, we revisit the century-old concept of the 'minimum dwelling' in the light of today's urgent housing shortage. Conditions and living patterns have radically shifted over the past 100 years, but could this historic formula be a solution to modern problems? With contributions by Golnar Abbasi and Arvand Pourabbasi (WORKNOT!), and Giovanna Borasi (director of CCA). The evening will be moderated by Tara Lewis.
"Develop good, affordable housing for everyone – especially for people who are in difficult circumstances, waste as little material as possible, use the latest knowledge in the design and construction process, and research the current essential requirements that a home must meet by studying the behavioural patterns of the inhabitants..."
Given the present-day shortage of good and affordable housing, this formula for the 'minimum dwelling' could be at the forefront of current government policy. Yet this concept, and the social ambitions behind the idea, are a century old.
Back in the 1920s, when the concept of the minimum dwelling was developed, the 'traditional Western family' (consisting of a heterosexual couple with two children) dominated society. Today's reality and social structures are far more nuanced. To quote the research programme Catching Up with Life (Canadian Centre for Architecture, 2021):
"We might live alone, unmarried, childless, and for longer; we might live with our partner's children, with strangers and siblings, with multiple generations in the same home; we have a more fluid understanding of gender roles, of work, and of love."
If architecture can be seen as a support or a hindrance to emerging patterns of social relationships, how is it impacted by these transformations, and how does it inform our ideas about how to live together?
For more information, visit our website.
--
This event is free. We are asking attendees to consider supporting upcoming national and local housing protests.
Note to Attendees:
As of 25 September 2021, Het Nieuwe Instituut follows the Museum Protocol, the rules of conduct for safe and responsible museum visits drawn up by the Museum Association on the basis of the RIVM guidelines. Under the new guidelines, we are required to check the corona pass of all visitors (aged 13 and above) attending all events (including Thursday Night Live! events). For an overview of all guidelines at Het Nieuwe Instituut, visit our website.