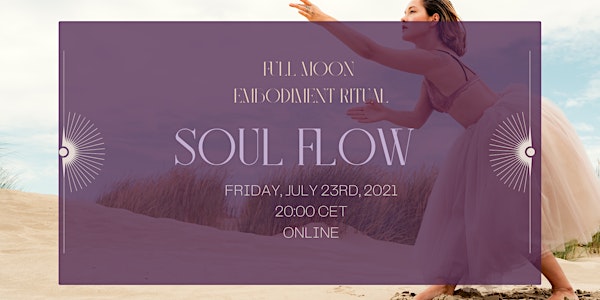 SOUL FLOW Full Moon Embodiment Ritual
An embodied dance ritual of softening into the divine feminine state of openness and receptivity
About this event
⦿FRIDAY July 23rd, 2021
⦿8pm CET via Zoom
⦿Abundance flow 11-16 Euro (NOTE: Replays will be sent to all registered participants)
__________________________________________________________________________
🌸An embodied dance ritual of softening into the divine feminine state of openness and receptivity
__________________________________________________________________________
🌀We all want more pleasure, joy and abundance but often we can't even receive a compliment with gratitude and grace.
Do you want to become open and effortlessly receptive to the desires you're calling in ? Do you want to balance giving and receiving?
🌀The feminine is soft, receptive, creative and radiant, however most of us spend our time giving, doing, and unaware of how closed off we actually are to what we are calling in.
We often wonder why our strategies are not leading us there, we do all the things with convincing approaches but its not really working because we are blocking the energetic flow. And then sometimes we receive, but we can't really accept it with an open heart. Do you also sometimes feel like you still need to do something more to prove your worth?
🌀I understand this so well and I find myself there time and time again. And its a great opportunity to cultivate self-worth and realign with my soul flow through embodiment.
Embodied dance has taught me that when I let go and continue to expand my ability to soften I can enter this flow state of giving and gratefully receiving life with open arms. And then I remember, I am in charge of effortlessly creating what I desire.
🌀You can do this too! That is the beauty of this life...
🌀You are the source of it all, all that is limitlessly present in your life and all that you are calling in. When you feel this deep truth in your heart as you soften into your soul flow then you'll remember to open, you'll remember that you have a choice, you'll remember that it is safe to soften and let go, that you are enough and you can receive with grace all that is meant for you
...because you create it!
✨This upcoming SOUL FLOW ~ Full Moon Embodiment Ritual is a wonderful journey of softening, becoming aware and cultivating our divine feminine state of openness and receptivity to all that is meant for us.
🌀To me Soul flow is a state of self love which allows you to reclaim your worthiness of all that you desire to receive. You get to embody it.
If you are struggling to create and call in your hearts desires and you are ready to realign with your divine feminine SOUL FLOW, open your heart and become the source of your pleasure and happiness...
✨Then all you need to do is...
1. Register and pay your donation
2. Show up next Friday
3. Celebrate yourself for leaning into your divine feminine softness
________________________________________________________________________________
Embodied dance is a safe and supportive way of setting energies in motion - emotions- to unravel and awaken the spiralling of life force energy through our body. Life force energy is the energy of creation that we activate through dynamic mediation, somatic movement and embodiment. By cultivating a sense of safety and security through movement meditation our nervous system calms and we become sensitive to the subtle vibrancy of our soul, our wisdom body, our energy body. Through movement we transform these energies and activate its potential to direct and create pleasure, creativity, power, purpose, abundance. When softening and opening our channels through movement and breath we can enter this state of soul flow. We all are energetic alchemists able to create and embody this divine feminine state of magnetism and creation.
▻▻▻ This journey is open to all women (trans and non-binary welcome as well). No prior experience is needed. You are being guided through the entire journey with your eyes closed to connect to your intuitive movement, your authentic self-expression. Everyone can move from their soul. You can too!
__________________________________________________
Testimonials:
"The way Sonja intuitively guided my process was exactly what I needed. I am so grateful to have been able to be in such a safe and loving holding space to fully express everything. The way that Sonja embodies gentleness and love is contagious and I felt it tingling in the body still long after the session. I loved the confidence and power that Sonja transmits through her voice. I just fully surrendered." ~ Niina Ratsep
" The pleasure journey was magical. Sonja held space in such a beautiful way. I felt safe to express myself, my feelings and my pleasure. The music and guidance were so aligned. Thank you for your being." ~ Maxi Radicke
"You are a magical woman! Thank you. I look forward to another journey with you. " ~ Laura Kimmich