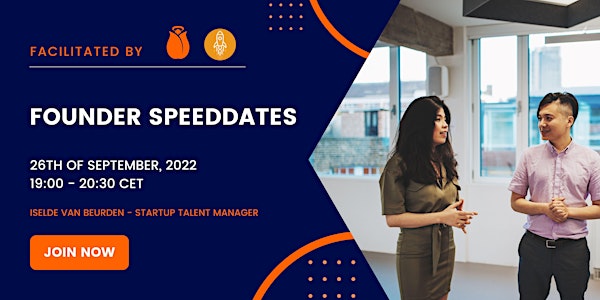 Speednetworking: Find your co-Founder
Looking for a co-founder? Join our event and meet Netherlands based co-founders!
About this event
Coming up with a startup idea and starting- and building your venture can be lonely and overwhelming, especially when you do it all by yourself.
So it's not surprising that the most successful ventures have been started by strong co-founding teams.
But where can you find your co-founder?
During this networking event we help you do just that:
You'll be able to:
Meet like-minded entrepreneurs who could potentially be your co-founder;
Participate in 'meet-and-greet' rounds and meet aspiring founders ready to innovate with you;
And of course, network!
The biggest factor in a startup's success is the strength of the founding team. And for investors, it's often the most important factor they base their investment decision on.
But where can you find your co-founder to build your team with?
Iselde van Beurden - Talent Manager, will briefly touch upon what to look for in a co-founder and the dealbreakers to look out for.
Who for?
Anyone who is launching, or thinking about launching a Netherlands-based startup;
Anyone looking for a co-founder and looking to learn about co-founder relationships.
Program:
Introduction
Short presentation
One-to-one speed networking
At the end of the evening, you submit the names of the people with whom you'd like to have a further conversation. We will compare and compile lists and in case of a match, you'll be provided with each other's contact details.