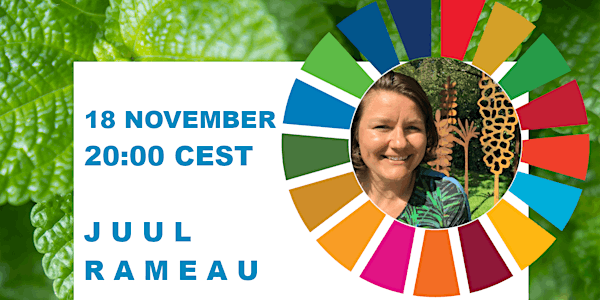 Sustainability Talks: What we can learn from nature, instead of taking.
JCI AI Sustainability Talks monthly series: We connect sustainability actions of organizations with young people.
About this event
Are you a young active citizen?
Do you want to learn about what we can learn from nature instead of taking from it?
JCI Amsterdam International presents JCI AI Sustainability Talks monthly series.
Next up is Juul Rameau on what we can learn from nature
Wednesday 17th November at 20.00 CEST.
"It's not what we can take from nature, but what we can learn from it!", that is the motto of Juul Rameau a Dutch artist.
In a practise called Biomimicry —from the Greek bios for "life" and mimesis meaning "to imitate"—curious designers and innovators in many industries have been emulating the time-tested strategies of the other 30 million species on earth. And Juul is one of them!
She conceives and realises concepts and designs according to the Biophilic Design principles, which means she looks for ways to incorporate the natural habitat into the design of homes, work spaces, and public places.
During the #JCIAISustainabilityTalk Juul will explain the basics of Biomimicry and Biophilic Design creating awareness about how you can use nature in your own environment for your health and happiness!
This event will be presented to you via zoom. Please register to receive the Zoom details.
We look forward to meeting you!
JCI Amsterdam International