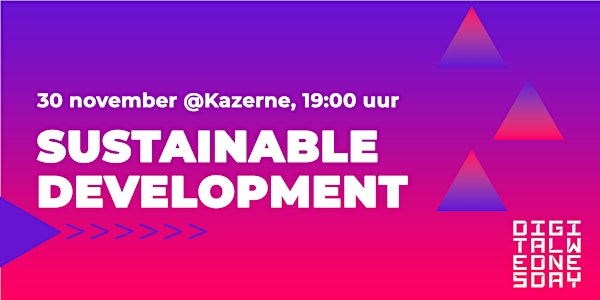 Sustainable Development Goals
Duurzame doelen: hoe word je het bedrijf van de toekomst? En... hoe pak je dit aan? Op 30 november kom je hier achter!
When and where
Location
Kazerne 8 Paradijslaan 5611 KN Eindhoven Netherlands
About this event
Duurzame doelen: hoe word je het bedrijf van de toekomst?
Samen maken we de wereld duurzamer: een onderwerp dat inmiddels bij velen van ons hoog op de (zakelijke) agenda staat. Want niet alleen wij mensen, ook organisaties zijn zich steeds bewuster van hun aandeel hierin. Wie het verschil wil maken, begint bij zichzelf. Als individu, collega, ondernemer en organisatie. Maar hoe neem je die rol als organisatie aan? Hoe onderneem je verantwoord? En wat is het aandeel van digital, marketing en communicatie hierbinnen?
Verantwoorde cases uit de praktijk: zó draagt jouw organisatie zijn steentje bij
Daar kom je onze volgende Digital Wednesday editie op 30 november achter. Toonaangevende sprekers vertellen je over hun ervaringen en inspireren je met cases uit de praktijk.
Ook doe je inspiratie op uit het initiatief Bits of Help: 6 organisaties uit de Brainport regio die geavanceerde technologie aanbieden aan NGO's, zodat zij slimmer en innovatiever kunnen werken.
Ten slotte krijg je een kijkje in de creatieve marketing en communicatieconcepten van Happy Horizon Non-profit (voorheen WWAV), die maatschappelijke organisaties op deze manier helpen de wereld te verbeteren. Welke insights relevant zijn voor bedrijven en campagnes (opgedaan uit campagnes voor o.a. het Rode Kruis en Greenpeace) hoor je op 30 november.
Bio:
Jeroen de Haas
Functie: oprichter en chef van Pipple & mede-oprichter van Bits of Help
Jeroen de Haas is oprichter en chef de mission van Pipple, heeft ruim 20 jaar ervaring in verschillende analytische, commerciële en leidinggevende functies en is Eindhoven in hart en nieren. Hij past zijn passie en expertise - wiskunde - toe op maatschappelijke projecten. Daarnaast is hij mede-oprichter van Bits of Help: een non-profit platform voor digitale diensten op het gebied van data-analyse en kunstmatige intelligentie voor NGO's.
Ard Lok
Functie: campagnestrateeg en managing partner Horizon Non-profit (voorheen WWAV)
Ard ontwikkelt als ervaren campagnestrateeg creatieve concepten en campagnes voor maatschappelijke organisaties die mensen in beweging brengen. Dit doet hij namens Happy Horizon Non-profit (voorheen WWAV). Die campagnes zorgen voor actie, draagvlak en inkomsten die organisaties helpen om de SDG-doelen te behalen.
===
Digital Wednesday 'Sustainable Development Goals'
Datum: 30 november 19:00 uur
Locatie: Kazerne (Paradijslaan 2-8, Eindhoven)