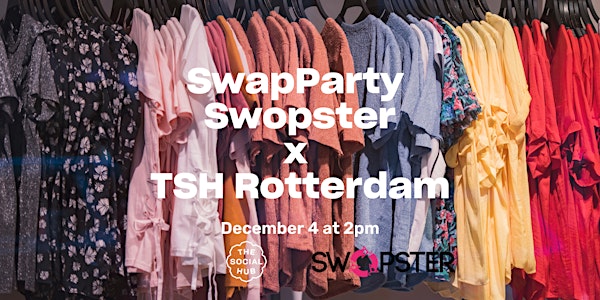 SwapParty | Swopster x The Social Hub Rotterdam
This is a party where you and your community bring clothing and accessories and trade, barter and donate items of your choice!
When and where
Location
The Social Hub Rotterdam 225 Willem Ruyslaan 3063 ER Rotterdam Netherlands
About this event
We are hosting another edition of the clothing swap event! In collaboration with Swopster.
This will be a good time to update your holiday wardrobe in a sustainable way. So, declutter your closet, bring the pieces you do not longer wear but are still in good condition, and exchange them for something 'new'!
Rules:
Bring up to 5 items to swap during the event.
Hand in your items clean, wrinkle-free and in good condition to the organization.
For every accepted item you receive 1 or 2 coins:
1 coin for shirts, skirts, shorts, small accessories
2 coins for bags, shoes, jackets, trousers, dresses, sweaters
New items can be 'purchased' with the coins.
Do you have any coins left? Feel free to give them away or use them during the next swap event.
Non-exchanged items will be carefully sorted and donated.
Who is Swopster?
Swopster is a company based in Rotterdam that focuses on promoting slow fashion. Swopster is an online platform where it is possible to buy, sell and exchange preloved clothing. In addition to enabling clothing exchange, Swopster is also committed to informing their customers about the sustainable fashion industry.
Use the following link to check out their platform!
https://swopster.nl/