Description
Eindhoven's 30,000 international residents are central to the region's development and economic growth. Research amongst knowledge workers, their families, and international organisations has revealed that Dutch healthcare – for all its strengths – doesn't always meet the needs or expectations of internationals. In addition to cultural gaps, language barriers, varying expectations, and a general unfamiliarity with the Dutch healthcare system, it was also revealed that many internationals do not understand the prominent role of the General Practitioner (GP). The frustration these issues bring can make the difference in whether internationals remain in the Netherlands long-term.
Employers, HR professionals, (local) authorities, healthcare management, and other stakeholders will meet on June 2nd to discuss the need and necessity for adequate healthcare for internationals. How can those with an international background feel at home in the Netherlands? How can we close the gap between their expectations and the healthcare provided?
This symposium marks the opening of the primary health care center for internationals: SGE International on Strijp S in Eindhoven. The official opening is taking place on June 2nd.


In Eindhoven en omgeving wonen ongeveer 30.000 internationals die belangrijk zijn voor de ontwikkeling en werkgelegenheid van deze regio. Uit onderzoek onder internationale kenniswerkers, hun familieleden en organisaties in Eindhoven bleek dat zij de zorg in Nederland niet altijd als positief ervaren. Naast een taalbarrière, cultuurverschillen, andere verwachtingen, onbekendheid met het Nederlandse zorgsysteem, kwam vooral naar voren dat zij de promi-nente regierol van de huisarts niet altijd begrijpen. Dit zorgt voor frustraties en kan een reden zijn om niet graag naar Nederland te komen en/of te blijven.
Op 2 juni spreken we met werkgevers, HRM-professionals, (gemeentelijke) overheid, (zorg)bestuurders en professionals, onderwijsinstellingen en anderszins bij internationals betrokkenen over nut en noodzaak van goede zorg voor internationals. Hoe kunnen mensen met een internationale achtergrond zich thuis voelen in Nederland? Hoe kan de kloof tussen hun verwachtingen en de aangeboden zorg gedicht worden?
Dit symposium is georganiseerd om de opening van het gezondheidscentrum voor internationals: SGE International op Strijp S in Eindhoven te vieren. De officiële opening hiervan vindt plaats op 2 juni.

---
Program:
The presentations are in Dutch, translation in English will be organised.
12:30 – 13:00 hrs - Reception with lunch
13:00 – 14:00 hrs - Plenary session part I
14:00 – 14:45 hrs - Inclusive track: workshops round I
14:45 – 15:15 hrs - Break
15:15 – 16:00 hrs - Inclusive track: workshops round II
16:00 – 17:00 hrs - Plenary session part II
17:00 – 19:00 hrs - Drinks / Buffet



Programma:
De presentaties worden gegeven in het Nederlands. Voor vertaling in het Engels wordt gezorgd.
12.30 – 13.00 uur - Ontvangst met lunch
13.00 – 14.00 uur - Plenair programma, deel I
14.00 – 14.45 uur - Inhoudelijke tracks / workshops, ronde I
14.45 – 15.15 uur - Pauze
15.15 – 16.00 uur - Inhoudelijke tracks / workshops, ronde II
16.00 – 17.00 uur - Plenair programma, deel II
17.00 – 19.00 uur - Borrel / Walking Dinner

---
Speakers / Sprekers

Staf Depla, City Councillor for Employment, Economy and Vocational Education in Eindhoven
As Alderman Staf Depla is committed to optimizing the business climate in our region. A milestone was the opening of the International School Eindhoven. Staf Depla advocates also for better integration of refugees with a residence status in Eindhoven. From 2000 to 2010 he was a Labour Party member of the Dutch National Parliament.
Staf Depla, Wethouder van Werk, Economie en Beroepsonderwijs Gemeente Eindhoven
Als wethouder is Staf Depla geëngageerd om het vestigingsklimaat in onze regio te optimaliseren. Een mijlpaal op zijn conto is de opening van de Internationale School Eindhoven. Ook breekt Staf Depla een lans voor statushouders in zijn gemeente die evenals internationals een verschil in cultuur ervaren. Staf Depla was van 2000 tot 2010 lid van de Tweede Kamer-fractie van de PvdA.

Han Toebast, Design Strategist at VanBerlo
VanBerlo Design Agency analyses developments in specific industries and markets. VanBerlo finds creative and strategic solutions in order to cope with the complex problems of tomorrow. How can we give people a healthier life with the use of technology? VanBerlo builds bridges between human needs and desires, between technological opportunities and sustainable business.
Han Toebast, Design Strategist at VanBerlo
Designbureau VanBerlo volgt en analyseert ontwikkelingen in specifieke branches en markten. Dit om tot creatieve en strategische oplossingen te komen om de ingewikkelde vraagstukken van morgen het hoofd te kunnen bieden. Hoe gebruik je techniek om mensen een gezonder leven te bieden waardoor ze kunnen blijven participeren? VanBerlo bouwt bruggen tussen wat mensen nodig hebben en willen, waarbij techniek en maar ook duurzaamheid een belangrijke rol spelen.

Panel discussion with:

Prof. em. dr. Arie C. Nieuwenhuijzen Kruseman, previously rector magnificus at Maastricht University and president of the Royal Dutch Medical Association (KNMG)

Hebe Rullmann, GP at SGE international in Eindhoven

Willem G. van Hoorn, advisor internationalising Eindhoven University of Technology

Chloé Ansari Moein, Psychiatrist/ Medical Director PsyQ International Mental Health Services

Paneldiscussie o.a. met medewerking van:

Prof. em. dr. Arie C. Nieuwenhuijzen Kruseman, oud rector magnificus Universiteit Maastricht en oud voorzitter KNMG

Hebe Rullmann, huisarts / GP SGE international

Willem G. van Hoorn, adviseur internationalisering Eindhoven University of Technology

Chloe Chloé Ansari Moein, Psychiatrist/ Medical Director PsyQ International Mental Health Services


---


Workshops:
Who are Expats? What is an Expat Center? Your Questions Answered!
Olivia van den Broek-Neri, Project Coordinator Communications & Events
and Kris de Prins, Holland Expat Center South

This workshop will introduce you to the Expat Center: a nonprofit governmental agency that offers free services to companies that hire international employees. Find out who expats are and how the Expat Center can help your company. And do not forget to bring your mobile device, because you will need it in the interactive workshop that we have planned for you. Get to know us and the expat community!



---




Closing the gap in mental health care - Chloé Ansari Moein, Psychiatrist/ Medical Director and Psychiatrist PsyQ International

Moving globally can be very exciting. Despite the positive changes, it can be challenging as well. New country, new regulations. new language; isolation and adjustment problems are common problems among expats. Due to change of environment latent, pre-existent psychological problems may come back to the surface and/or new psychological problems may develop. How to approach your problems in a new host country?



---




Closing the gap in (collective) health care insurance-
Toegevoegde waarde van de zorgverzekeraar voor werkgever met internationale werknemers - Ando Simonse, productmanager CZ en Jurgen Bierbooms, Productmanager CZ Expat Health Service

This workshop will focus on issues faced by employers and employees seeking Dutch health insurance, such as registration, coverage, access to care, and care in concurrence with the home country and/or international health insurance.Through an exemplifying customer case we will show participants what the target group is facing, and how CZ can support.

In deze workshop besteden we aandacht aan de issues waar werkgevers en werknemers mee te maken hebben waar het gaat om de Nederlandse zorgverzekering (aanmelding, dekking, toegang tot zorg, samenloop met zorg in het moederland en/of een internationale zorgverzekering). Vanuit onze rol als buitenlandspecialist laten we zien welke oplossingen er zijn en hoe wij als CZ de werkgever en werknemers optimaal kunnen ondersteunen. Vanuit een fictieve klantreis laten we de deelnemers zien waar men mee te maken krijgt en hoe CZ hierin kan ondersteunen.



---




And how about the family?
Carola Eijsenring, Owner of Indigo-Wereld

Internationals from all over the world are settling down in The Netherlands. Especially when you're coming from a non-western country and you've been moving for the first time from your motherland, it could be quite an effort to find your way in The Netherlands. Not only the language will cause problems, but also the different (often unwritten) rules, regulations, systems and the general way of doing might be confusing, and could have an impact on your physical and mental health. You need to deal with other climate, other food, and other ways of doctor's treatment. In this workshop we'll explore the various wants and needs of international expats and their families, and how to meet them as their family doctor and/or other care professionals.

Internationals van over de hele wereld strijken neer in Nederland. Vooral als je uit een niet-westers land komt en voor de eerste keer uit je moederland emigreert, kan het een hele toer zijn om je weg te vinden in Nederland. Niet alleen de taal zal problemen opleveren, maar ook de verschillende (soms ongeschreven) regels, wetten, systemen en de algemene manier van doen, zijn vaak verwarrend en kunnen van invloed zijn op je fysieke en psychische gezondheid. Je moet maar zien te overleven in een ander klimaat, met ander eten en andere manieren waarop dokters je behandelen. In deze workshop bespreken we de verschillende wensen en behoeften van international expats en hun families, en hoe hier als huisarts en andere zorgprofessionals mee om te gaan.



---




Dutch culture through foreign eyes - De Nederlandse cultuur door internationale ogen-
Willem van Hoorn, HR Policy Advisor Internationalization and Innovation at Eindhoven University of Technology.

This workshop will examine participants' thoughts on the impression Dutch culture and local mores have on internationals. Comparisons will be made using expat literature on Dutch culture. Some striking anecdotes should not be missed here of course.

In deze workshop zal met de deelnemers onderzocht worden wat zij denken dat de indrukken zijn die internationals hebben van de Nederlander en van de plaatselijke mores. Vervolgens wordt dat gespiegeld aan wat de expat literatuur te zeggen heeft over de Nederlandse cultuur. Ook enkele treffende anecdotes mogen hierin natuurlijk niet ontbreken.



---




'The making of' SGE International- Robert Hazenberg, Cluster Manager SGE, Hebe Rullman, GP at SGE International en Dirk Jan Frijling, Network Healthcare for Internationals.

When asked "What do you think of Dutch health care", professionals of SGE received different answers than expected. The invited Internationals were clear in their assessments: "You do not understand our specific needs, expectations and concerns." And "We have little confidence in Dutch health care." SGE took on the challenge and called in internationals to help close the perceived gap. During the interactive workshop we will discuss how international health care and services are designed in close collaboration with the target audience. Which complaints were raised and what are the unique characteristics of SGE International with the aim to develop a relationship based on trust and understanding.

Op de vraag 'wat men van de Nederlandse zorg vond' kregen de professionals van SGE een ander antwoord dan zij verwachtten. De uitgenodigde Internationals waren helder in hun oordeel: 'jullie hebben geen begrip voor onze specifieke behoeften, verwachtingen en zorgen'. 'We hebben weinig vertrouwen in de Nederlandse zorg'. SGE ging de uitdaging aan en nodigde internationals uit om te helpen het gevoelde gat te dichten. Tijdens de interactieve workshop wordt besproken hoe zo de zorg- en dienstverlening in een nauwe samenwerking met de doelgroep is vormgegeven. Welke 'pijnpunten' aan de orde zijn gesteld en wat de unieke kenmerken zijn van SGE International die er voor zorgen dat er een op vertrouwen gebaseerde behandelrelatie kan ontstaan.



---





Caring and unburdening- Ted Dekker, relocator en Roeland Heywood, Relationship Manager Expats ABN Amro.

The organisers of this workshop aim for an important goal: unburdening internationals. For example, helping register with official bodies and providing information on local healthcare, banking, and schools. This facilitates the integration process for internationals and their families.

Het ontzorgen van internationals, die tijdelijk of permanent in Nederland verblijven, is een belangrijk doel van de inleiders van deze workshop. Niet alleen op het gebied van registratie bij officiële instanties, maar denk ook aan het verschaffen van lokale informatie waaronder zorgverlening, bank en indien nodig scholen. Op die manier wordt het voor de internationals en hun gezinnen iets makkelijker gemaakt.



---




Interface health care and culture- Eva van Ooijen, Intercultural Trainer, KIT (Royal Tropical Institute)

Many healthcare professionals have to deal increasingly with clients from different cultural backgrounds. These international people may think differently about health, healthcare, disease, death and the role of the caregiver. Communication is a challenge too: Do we both mean the same? Am I catching the right signals? At the same time, careful communication about complaints, pain and the development of symptoms is very important: they constitute the basis for diagnosis and regimen. Misunderstandings and incomprehension can also have far-reaching consequences. In this workshop we look at a number of possible misunderstandings. Keywords are: awareness, recognition and connection.

Veel professionals in de zorg krijgen in toenemende mate te maken met cliënten met een andere culturele achtergrond. Deze internationals kunnen anders aankijken tegen gezondheid, zorg, ziekte, de dood, en de rol van de zorgverlener. Ook in de communicatie is het soms zoeken: bedoelen we allebei hetzelfde? Vang ik de juiste signalen op? Tegelijkertijd is zorgvuldige communicatie over symptomen, pijn en de ontwikkeling van klachten wel erg belangrijk: zij vormen immers de basis voor de diagnose, het behandelplan of het zorgregime. Misverstanden en onbegrip kunnen dan ook ingrijpende consequenties hebben. In deze workshop staan we stil bij een aantal mogelijk misverstanden. Sleutelwoorden zijn: erkennen, herkennen en verbinden.

---
This symposium is organized in association with: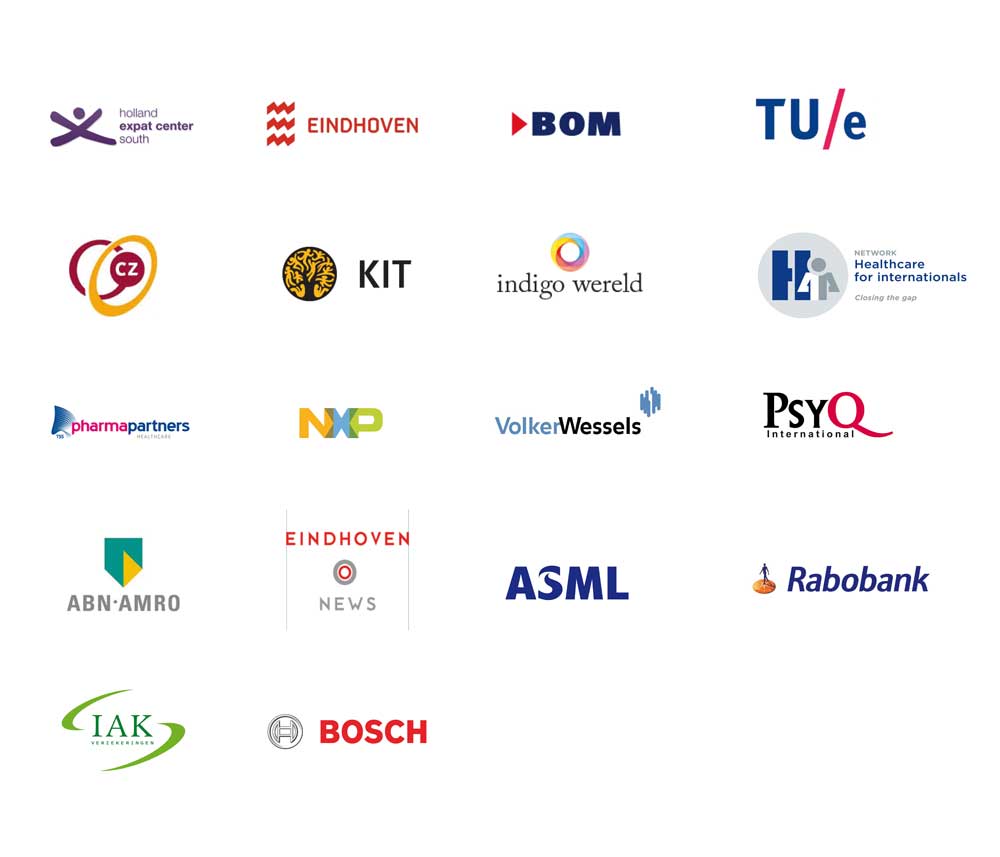 Organiser of Symposium 'Closing The Gap' - Health Care for Internationals
For more than 30 years The Eindhoven Corporation of Primary Health Care Centers (SGE) has provided primary health care in Eindhoven. Besides general practitioners we also offer other medical and paramedical facilities, such as a physiotherapists, psychologists, pharmacists and dentists.These specialists work together to provide their patients with the best health care. SGE provides health care to more than 80.000 patients from different centers located in Eindhoven. Working closely with internationals from Eindhoven SGE has developed health care services tailored to the needs of internationals: SGE International