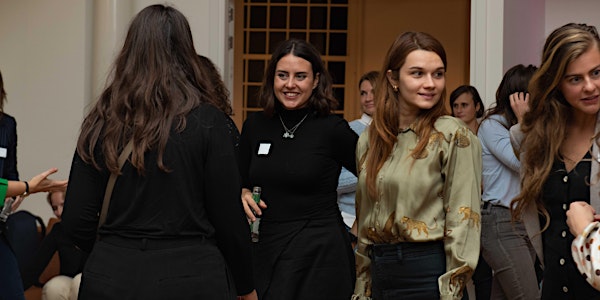 Tackle 2023 Together! Speed Networking Event
Let's network more efficiently in 2023! Join our speed-networking event to build new connections and achieve each others' goals in Utrecht.
By Female Ventures Utrecht
Date and time
Thu, 30 Mar 2023 18:30 - 21:00 CEST
Location
Trengo Stadsplateau 30 12th floor 3521AZ Utrecht Netherlands
About this event
It is time to tackle 2023 together!
Network and support systems make achieving your personal and professional goals that much easier plus our brains release endorphins when we help others.
Here at Female Ventures, we believe there is no need to do it all by yourself and have curated a speed-networking night for you!
Get to know the local Utrecht Female Ventures Community, see how your superpowers can help others and who can help you.
Before and after the main event, there will be great moments to connect to each other, exchange ideas, discuss challenges and support strategies. Drinks and small bites are included in the ticket price.
Schedule:
18:30 - Walk in
19:00 - Brief introduction
19:15 - Speed dating networking
20:15 - Networking drinks
Invitation for whom?
All ambitious women who want to grow (further) professionally and want to help others grow, are welcome. Whether you are an entrepreneur, freelancer, startup employee or aspire to become one. Young, young of mind, experienced or less experienced. Men are most welcome!
Why join us?
Meet successful women and expand your network
Experience the power of a story and make meaningful connections
Exchange ideas and LinkedIn profiles
We're excited to host this event in partnership with Trengo - a customer engagement platform that lets you create the right touch points with your customers at the right time and consolidate all customer conversations into a single place.
'We believe in a world where technology empowers the relationship between companies and their customers. We simplify communication for businesses and help them provide excellent customer service. We provide a communication platform to manage all customer communication in one place. We offer collaboration and automation tools to replace repetitive work with meaningful conversations.
At Trengo, we believe that an exceptional team can lead to exceptional performance. This belief has led us to work with a diverse group of people from various cultures. While this is incredibly cool, it can also present challenges. It is important to take the time to get to know, understand, and respect one another.
We are aware that women are underrepresented, especially in the software world. We think it's incredibly important to show support for women in this sector. That's why we are thrilled to support Female Ventures and their mission to empower women to grow and lead their careers.'
-----
When signing up, please answer the following questions in the comments box:
1. Briefly tell us about your professional self
Example answer: My name is Sophie and I am a Account Manager for X . This is my website (add link).
2. What is your main motivation for joining this event?
Example answers: Looking for a co-founder or client / Motivated to broaden my local Utrecht network / Interested in female empowerment events.
3. What goals have you set for 2023?
Example answers: I want to improve my negotiation skills / I want to double my business' profits this year / I want to jump from corporate to freelancing.
-----
Stay connected
We would like to keep you updated through our (bi-monthly) newsletter. Please click here if you want to receive our latest news in your mailbox.
Note:
We are in the process of confirming the location of event. We can guarantee that it will be in the city centre. More details to follow!
We'd like to inform you that during our physical events some pictures and/or video may be taken and therefore may contain your image. Please notify us at the start of an event if you prefer not to be pictured/recorded and we will seat you accordingly.
Frequently asked questions
Why do I need to answer these questions when I sign up?