The best EQ tools! Experience the flow of creativity exercises and the focus on working out your personal challenge.
About this event
How relaxing and valuable can it be? Treat yourself with 90 minutes of guided exercises so you'll finally be able to focus on your challenge.
No one has to know about your challenge. Everyone is working on his/her problem while Ella explains the 'Tackle Your Challenge tools' and gives you during the 90 minutes various creativity exercises . Ella also doesn't have to know about your challenge. No one has to see your creative work. Everyone is busy, focused on his/her own work. It's perfectly okay to put your screen off if that is more comfortable for you.
The tools you are going to experience will do their positive work. During this workshop you'll learn to see things different going to act on your own discoveries and surprising insights.
The usual Masterclass 'Tackle Your Challenge' has proven to be very helpful. You can read the Feedback (at the bottom of the page) at the site of Ella Jong.com Some feedback: 'new insights' - 'friendly guidance' - 'surprising' - 'positive'.
When you're spinning for quite a while now, you're exited but not knowing where to start or you're worried, stressed, tired ...
When you want to enlarge your EQ skills ...
This is the place to be!
Tackling your challenge can be 'simple', creative, together with others and at the same time completely private.
Looking forward to see you!
Ella de Jong
PS You'll get information about the materials you need after you've bought a ticket. It will mainly be paper & (coloured) pencils.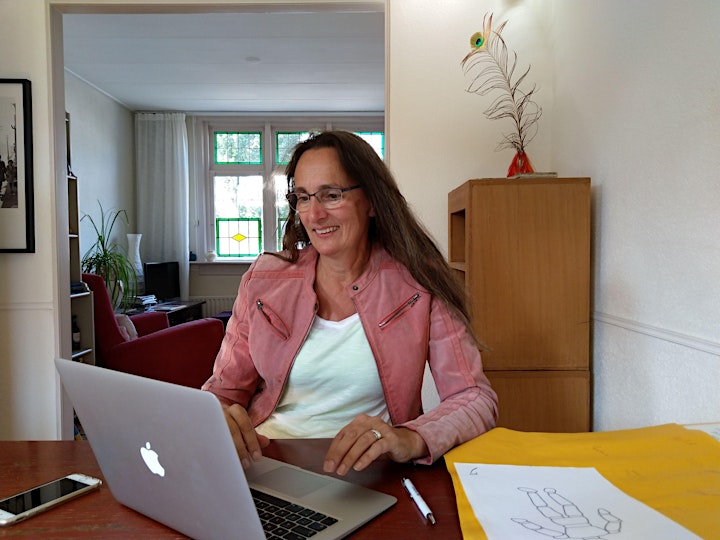 Organizer of Tackle Your Challenge! - EQ Creativity Workshop
Ella de Jong shows you HOW to confidently move forward facing challenges. 
People love her cheerful genuiness and the wise uplifting athmosphere.
Ella will teach you by experiencing short, "simple" and quick tools that will bring you the positive effect you want in improving wellbeing, focus, service and productivity.
Have a look at her website to read feedback and read about her other work.