TALKING HEADS - 2 short plays by ALAN BENNETT- CC AMSTEL THEATER
A double bill of two one act plays. Perfectly crafted, hilarious and yet disturbing and moving. Alan Bennett at his best.
About this event
SOCIALLY DISTANCED - YOU MUST BOOK ALL SEATS WITHIN A RED LINE
PLEASE READ THE BOOKING INSTRUCTIONS BELOW BEFORE CLICKING 'TICKETS'.
IN THE ROUND - ONLY 30 SEATS PER SHOW.
Talking Heads is a series of BAFTA winning plays about isolation, diversity and being gay in multi-cultural Britain. Filmed not once but twice for the BBC, they have starred top acting talent including Dame Maggie Smith, Kristen Scott-Thomas, Martin Freeman and Julie Walters, to name but a few. QE2 now brings them live to the Amsterdam stage..
'I really enjoyed this double-bill and would certainly recommend it.
Michael Hasted - Arts Talk Magazine (Tour 2018)
A Chip in the Sugar - Closet-case Graham lives with his ageing, widowed mother. His humdrum existence is suddenly jeopardised when her old flame appears on the scene. Starring Mark Winstanley.
Bed Among the Lentils - Vicar's wife Susan is an atheist; and an alcoholic, who turns to an Indian shopkeeper for salvation. Starring Loveday Smith.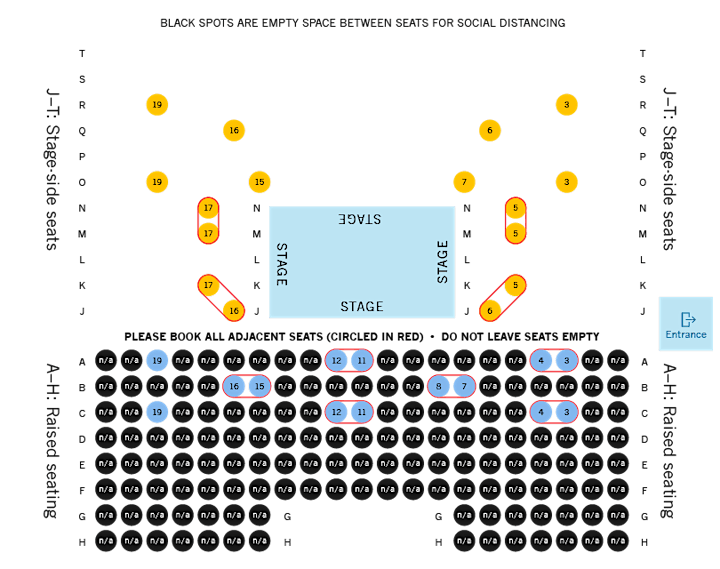 ESSENTIAL INFO BEFORE YOU BOOK!
Look at the Seating plan above to decide where you want to sit.
Seats circled in RED are grouped together and you need to book all the seats in a group. These groups are socially distanced from one another.
Blue seats are in the raked auditorium.
Yellow seats are additional stage-side seats. The stage is raised.
Grey/Black Seats are not available. No seats have restricted view.
Click TICKETS then select the number of seats you want.
YOU MUST THEN CHOOSE THE OPTION - BUY ON MAP - to the right of the screen
Click on ALL the seats in a group and please do not leave empty seats in a group. (Please refer back to the visual if necessary).
Click CHECKOUT and complete payment.
EXAMPLES OF PAIRS OF SEATS
N5 & M5 are next to each other. 2 Seats
J16 & K17 are next to each other. 2 seats
B7 & B8 are next to each other. 2 seats.
O3 is a single seat.
For your safety and convenience, if you book leaving adjacent seats empty, you will be moved to new seats that comply with the above. These will always be the best seats available.
FULL FAQ'S REGARDING HOW TO BOOK THE BEST SEATS ARE ON OUR WEBSITE AT :- https://www.qetc.nl/faqs/
VENUE - CC Amstel - At the state of the art CC Amstel, a 154 seater, which opened in September 2018. QETC was honoured to present the first ever production at the CC Amstel once it was fully open. We want to continue to support this modern, amazing venue after what has been a very difficult time financially. If you can donate during the booking process that is an enormous help. This venue is state of the art, easy to keep clean and safe whilst observing social distancing.
Interval drinks will be available with special arrangements whilst the 1.5 meter rule is in place. We will email you before your visit with details.
COVID-19
As part of the measures against COVID-19 we are required to carry out a health check before you attend the performance. By booking tickets you confirm that you have none of these symptoms.
Fever
Bad cough or sore throat
Cold/flu type symptoms
Loss of taste/smell
Should these symptoms arise prior to my attending, I agree to inform the organisers - QETC and not to attend. Refunds: We regret that we are not able to refund tickets. We always try to allocate tickets for another performance. Please email us at bookings@qetc.nl - If though performances have to be cancelled owing to revised RIVM measures you will get an automatic refund.
Organiser of TALKING HEADS - 2 short plays by ALAN BENNETT- CC AMSTEL THEATER
Talking Heads: A Chip in the Sugar & Bed Among the Lentils.
A double bill of two one act plays from the BBC Talking Heads series (June 2020). Perfectly crafted and hilarious, yet disturbing and moving. By Britain's best-loved writer, Alan Bennett. His play, The History Boys took home 6 Tony Awards. The Talking Heads series was nominated for no fewer than thirteen BAFTA awards.
10 - 15th Nov 2020 - CC Amstel Theater - Running time approx 2 hours with one interval.
QETC continues to bring you the best of English theatre, live in Amsterdam. In 2019 their new productions of Scary Bikers and The 39 Steps gained top reviews. Meanwhile, their gay-reworking of The Importance of Being Earnest played for a second run to packed houses.
Performed by special arrangement with United Artists in behalf of the author.
Keep up-to-date with all productions of the Queen's English Theater Company by joining our newsletter mailing list:  https://mailchi.mp/2745a99b1fde/qetcnewsletter