Description
One of the most beloved pairs of teachers and dancers, Soledad Mallo & Adriel Bournissen from Buenos Aires will be invited to KYAS TANGO SALON for seminars and shows in Amsterdam.
---
// SPECIAL DEAL:
Complete Seminar + Saturday Night Salon with live music and performance: for 55 EURO
*only 6 couple tickets available! (Select SPECIAL DEAL in order form)
---
SEMINAR PROGRAM & QUESTIONS

Saturday 24 June
17:30-19: 00
Workshop 1. Communication / connection of the couple through the arms and the breath. The importance of his torso and his intention.
19:00-20:30
Workshop 2. The Spiral Technique: Separation. Passing from "linear" to "circular".
Sunday 25 June
15:00-16:30
Workshop 3. Giros with dynamic changes, con cambios of dinamicas, enrosques, sacadas and ganchos.
16:30-18:00
Workshop 4. Colgadas and volcadas. The shaft as the center of motion.
Cost Participation in Seminars
1 Workshop € 25
2 Workshops € 40
3 Workshops € 50
4 Workshops € 60
All participants of the workshops get a discounted entry for KYAS TANGO SALON saturday 24 June 20.30 - 01.00. With live music and performance of Soledad and Adriel. Only € 10 instead of the normal price of € 15.
Registration
You can register above (green button). Just select the workshops you like to attend. If you register with partner please select 2 tickets per workshop and fill in details.
You can also email us. For registrations and / or questions, please contact Roshan or Kaoru at contact@kyastangosalon.com.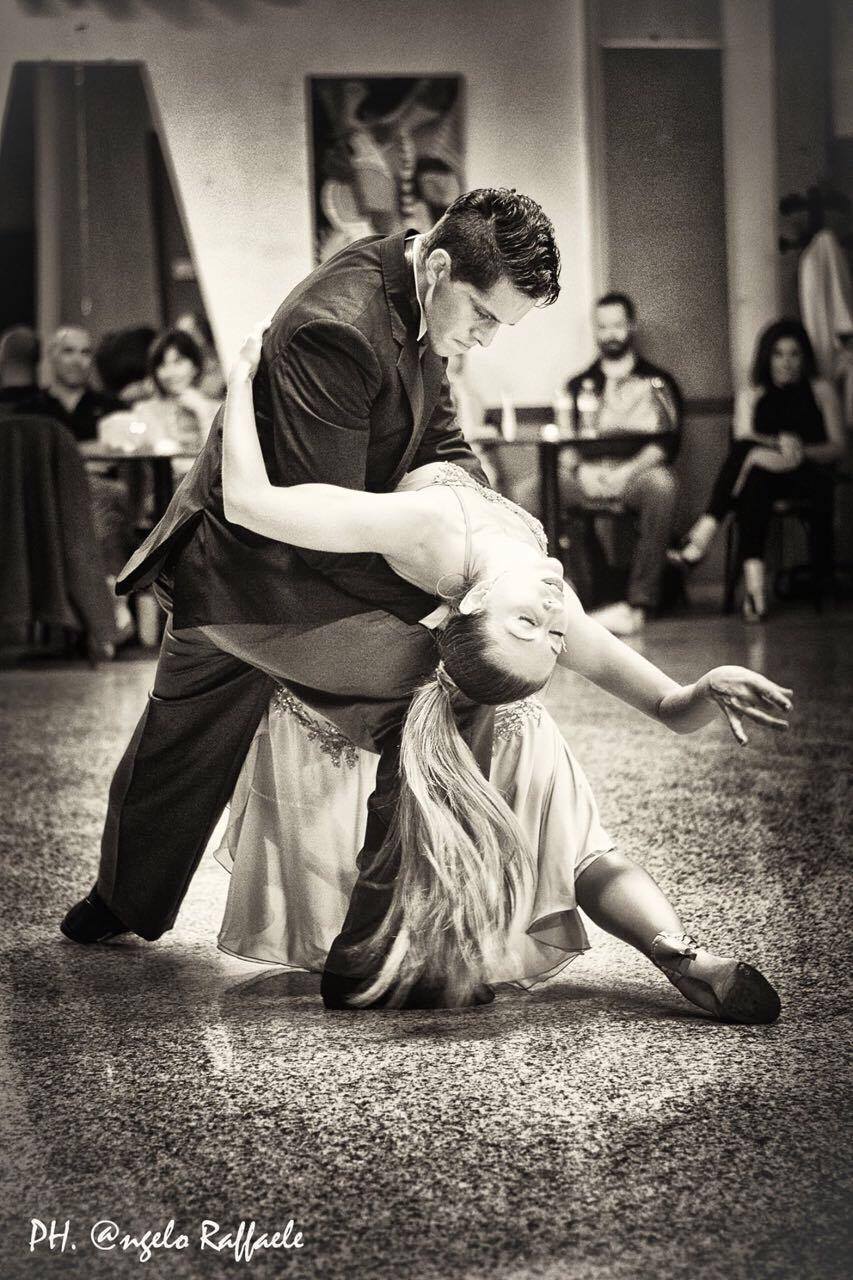 Video's of Soledad & Adriel
​"Negracha" https://www.youtube.com/watch?v=7H7UXbDL3uQ

"Huracan" https://www.youtube.com/watch?v=X-WsjDuzZAg

"Tormenta" https://www.youtube.com/watch?v=lkSE6-CLTLc&t=16s

"El Lloron" https://www.youtube.com/watch?v=NFtYz85ddMc​

Resume Soledad & Adriel
They gave classes at "La Ideal" and formed part of the staff of the show "UNA NOCHE IDEAL" with director Eduardo Saucedo.
Integrated the International Company "Sangre de Tango" 2011- 2012, where also gave workshops and private lessons.
In 2012 they integrated the International Company "Tango Seducción" of the teacher and director Gustavo Russo.
In 2013 they danced in "El Viejo Almacen" House.
They formed part of the show "LA PESADA DEL TANGO" of Grand Master Juan Carlos Copes in the
MUNDIAL DE TANGO 2013
In December 2013 they traveled to Vietnam for the 40th Anniversary of diplomatic relations between the two countries, representing the Argentina's culture in that country.
End of 2014 - early 2015 they danced in "Gala Tango" House.
In the middle of the 2015 they became part of the prestigious Mora Godoy.
They integrated the show "LOS CAMINOS DE BUENOS AIRES" in the PALAIS DES CONGRES DE PARIS by Director Alain de Caro (Paris, France).

They made a tour in April with the company "Tango Seducción" by maestro and director Gustavo Russo in Athens, Greece.

They were Guests of Honor in the festival realized by the "UNESCO International Day of Dance", at the Academic Theater of Castelfranco (Venice Italy).

From 2016 they toured Europe where they gave seminars and private lessons, as well as, exhibitions and shows.

They were invited teachers for the festival "TU TANGO" in Madrid, Spain.