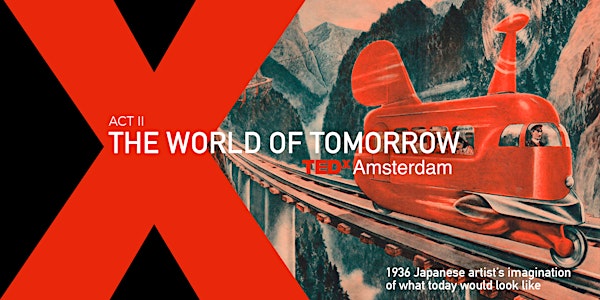 TEDxAmsterdamSalon - ACT II - The World of Tomorrow
TEDxAmsterdamSalon ACT II - The World of Tomorrow
Refund Policy
Contact the organiser to request a refund.
About this event
As human beings, we like to think about the future. We try to predict it, so that we can adapt accordingly. At the same time, we try to actively change the future in an attempt to create the 'ideal world'.
Sometimes change is necessary. At other times it is inspired by dreams and innovation. But always, change starts with a simple act. Our upcoming online event is designed to look at the world of tomorrow, and to consider the consequences – both good and bad – of our actions in the now.
In ACT II, The World of Tomorrow, we ask what the world of the 2020s will and should look like. What will make the biggest impact, and who will drive the biggest change? Starting now, how can we act towards a sustainable, equal, and inclusive future?
#1 Changing the world is a phone call away
Thami Schweichler, director of Makers Unite, will explore both the simplicity and difficulty of initiating change at an individual level. We are often withheld by fear, but the answer can be as simple as making one phone call.
#2 The Energy Transition: Do it now & Do it Well
Sophie Kwizera, policy advisor Natural Resources and Just Transition at ActionAid, will talk about sustainability. She will show how green energy initiatives in the West often go at the expense of communities elsewhere, making the solution more complex than simply buying a Tesla.
Programme:
20.00 - 20.15 : Welcome and introduction of first speaker
20.15 - 20.30: Speaker #1 - Sophie Kwizera
20.30 - 20.50: Break out session
20.50 - 21.00: Musical intermezzo by Ute Apfelstedt Passionflower
21.00 - 21.15: Speaker #2 Thami Schweichler
21.15 - 21.25: Interactive session
21.25 - 21.30: Recap
21.30 - 21.35: Introduction TEDxAmsterdam Awards programme
21.35 - 21.40: Final performance by Ute