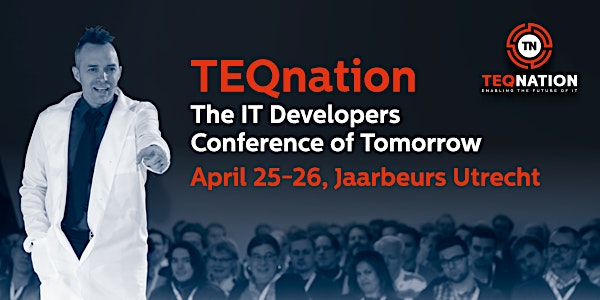 TEQnation 2018 - The Developer Conference of the Future
When and where
Location
Jaarbeurs Utrecht Mediaplaza 3521 AL Utrecht Netherlands
Description
TEQnation 2018 - The Developer Conference of the Future
April 25-26, 2018 - Jaarbeurs Utrecht (the Netherlands)
TWO DAYS OF CONFERENCE, TWO DIFFERENT TOPICS!
Day 1: The Future is Open | Day 2: The Future is Smart
The Future is Open (April 25)
"TEQnation: the Future is Open" is the open source conference of the Benelux and will bring together a unique blend of IT architects, managers, disruptors, experts and developers. Presentations, tutorials, keynotes, workshops and hands-summits will be part of this day. The themes you will encounter are Open IoT, Open AI, Open Data, Open Dev and Cloud & DevOps
The Future is Smart (April 26)
Celebrate the love for Smart Technology and meet like-minded Future Teqies. At "TEQnation: the Future is Smart" you can broaden your knowledge at our hands-on labs, hackathons, technical sessions and workshops, which are all focused on the technology of the next era.
Topics that will be discussed: Artificial Intellgince, Machine Learning, Cloud & Serverless, Virtual & Augmented Reality, Big Data & Security, IoT, DevOps, Open Source and Blockchain.