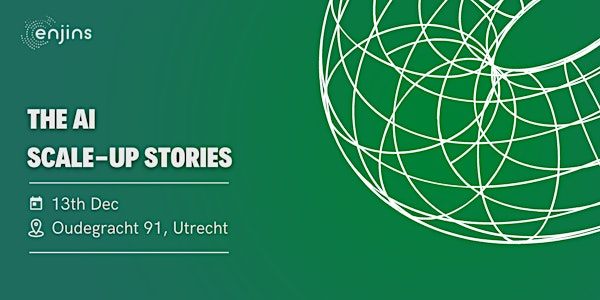 The AI Scale-up Stories
The event is part of a larger series of tech stories behind successful start-ups and scale-ups
When and where
Location
Oudegracht 91 91 Oudegracht 3511 AD Utrecht Netherlands
About this event
🚨Important message🚨
The event was moved to 16:45 due to the Football World Cup, as the Dutch team might play during the semifinals at 20:00 that day. According to the new plan, the event will finish at 19:00. We sent out messages to everyone who signed up before the 8th of December.
📚 Why the AI Scale up stories?
With more than 5,000 start-ups and scale-ups, the Dutch tech scene is becoming more vibrant every day. The AI Scale-Up Stories aims to tell the stories behind these start-ups and scale-ups and share their lessons learned while making data, technology, and AI their competitive advantage.
💡What to expect
Stories ranging from applied Machine Learning examples to strategic, organizational challenges. And from cloud best practices to Data Ops.
Felyx, Relive, and Enjins will join the stage.
Relive enables users to share their outdoor adventures such that other users can go for the same hike. By using in-app data in combination with geolocation, Relive helps users to find and go for their favorite hike. However, working with geo data comes with different challenges. Thom will share a few of his learnings.
Felyx is an innovative mobility scale-up with ambitious plans for more sustainable, shared transport to move through the city. With rising urbanization and deteriorating air quality, a shift in our mobility is needed. They operate in three countries and eighteen cities. Data & AI are key pillars in their growth strategy, from dynamic pricing to fleet optimization. They will talk you through how they established their data & AI capability and in what way it helps improve users' driving experience.
The AI scale-up stories are powered by Enjins. We are a Machine Learning Engineering company for fast-growing tech scale-ups and innovative businesses. While modeling is rapidly becoming a commodity, successful and sustainable implementation of ML systems is not. We believe in a combination of data science, engineering, and business to deliver successful ML systems that drive the growth of the companies we work for.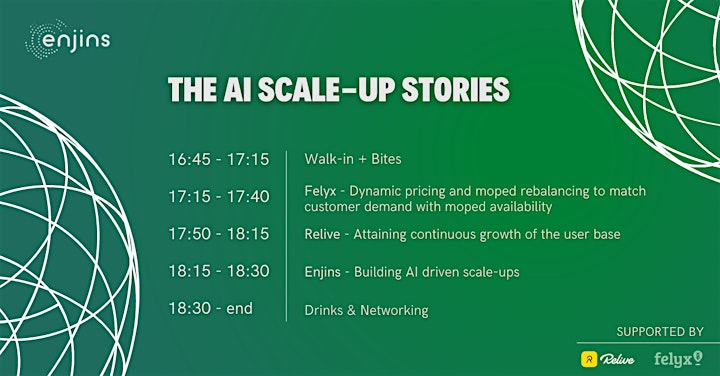 The following topics will be approached during the presentations:
🛵 Dynamic pricing and moped rebalancing to match customer demand with moped availability 🛵
At Felyx we are continuously focused on matching the demand of our customers with the availability of our mopeds. This is done via use cases Dynamic pricing and Rebalancing. These use cases are enabled by an in-house developed engine that supports us in better matching the demand of our customers with the availability of our mopeds. Since Felyx operates with a free-floating concept this could result in a high amount of vehicles in a low-demand area or the other way around. By providing discounts to our customers resulting from our Dynamic pricing engine we incentivize our customers to drive from a low-demand area to a high-demand area. In addition, we actively rebalance our mopeds to high-demand areas. This increases the availability for one customer while providing a benefit for the other customer. Furthermore, it reduces idle times of our mopeds resulting in other extra benefits like lower nuisance and damages. In this short talk, we will elaborate on the development of the use cases Dynamic Pricing and Rebalancing and the underlying engine, the process of embedding it into our backend system, mobile apps and operations, its benefits, and the challenges faced during design, development, and implementation.
🏂 Attaining continuous growth of the user base 🏂
Viral and word-of-mouth mechanisms build into Relives platform growth loops. Thom will share a few of the many insights into how data and analytics help Relive to grow, aiming for their target of 100 million users in three years.
🚀 Building AI-driven scale-ups 🚀
Scale-ups want to scale. And for many tech-first scale-ups data & AI play an important role. However, making data & AI part of a company's ability to scale is not easy. During this presentation, you will discover how AI is applied to accelerate stable growth. At Enjins we help scale-ups and unicorns turn data and algorithms into their competitive advantage. By understanding the dynamics of a scale-ups commercial and operational model, Enjins determines AI opportunities and translate these into actionable and prioritized use cases. Furthermore, we show how we build a company's data & AI capability on three fronts: operationalizing use cases into business processes, building a robust and scalable data & AI platform, and building the skill & team.